6 Trending Promotional Products You Can't Ignore Any Longer
The promotional products industry is constantly evolving. With new products becoming more popular than others, you need to know what the latest and greatest trending promotional products are, so you stay relevant to your audience.
Technological advancements, a shift in tastes and preferences, changing demographics of the population with millennials surpassing baby boomers and Gen X'ers, and new products being introduced to the market all lead to the need for new, more advanced, relevant and trendy promotional products.
We've compiled a list of the top trending promotional products of 2018, so you know which direction the market is moving towards, and allocate your marketing budget to those promotional products for which your customers appreciate you most.
1. Wireless Earphones

With Apple having removed the earphone port from the new iPhone, it's evident that bluetooth enabled wireless earphones/headphones are the future.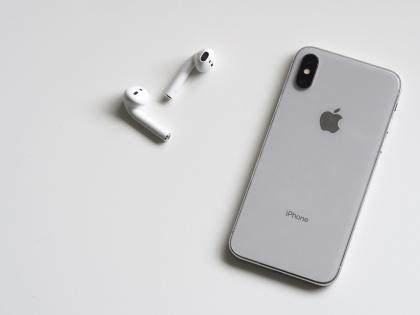 (Image Source)
If you think futuristically, wireless earphones would make a great promotional product due to their simplicity and utility. Your customers would love you for giving them a good pair of wireless earphones that they can use to listen to their favorite music. The things you need to be mindful of include:
Battery Life: The best wireless earphones are the ones with longer battery life. Depending on your budget, get the ones with a healthy battery life to ensure the longevity of your promotional wireless earphones, allowing your prospects longer playback times.

Portability & Lightweight: The weight and portability of your wireless earphones can make or break the prospect's experience. Keep this in mind while choosing the version you go with.
What's great about wireless earphones is that people usually wear them on their way to work while commuting, so they act as a promotional tool for both, your customers who're using them, as well as those exposed to your brand logo on these futuristic earphones while using their standard wired headphones. If you're seen as a company who's fast to adopt new technology, you'll create a perception of being a progressive company.
2. Wrist Fitness Trackers
Another increasingly popular category of promotional products is health & fitness trackers that users can wear around their wrist. This category is particularly loved among Gen Y folks, since they're tech savvy, interested in health & fitness and are mostly addicted to their smartphones.
Giving away a good fitness tracker and that syncs easily with iOS or Android mobile devices is the key to this product's success. You want your customers to feel like you truly care about their wellbeing, and the only way to do so through this product is it's ease of use, durability and compatibility with the devices they use.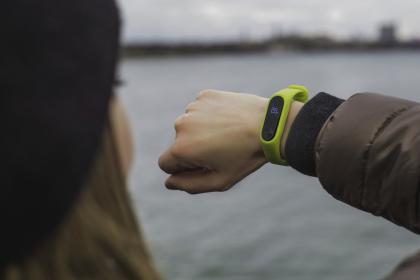 (Image Source) Good Things has a range of tech friendly branded promotional products. You can see them here
Fitness trackers usually give users important information, like the number of steps they walk per day, their heart rate, blood pressure, the number of hours they sleep and more information on their activity. Users love to keep track of their health!
3. Solar Cell Phone Chargers
A solar phone charger charges cell phone batteries through solar energy, without the need for an electrical power socket. This promotional product is loved by folks who like to engage in outdoor activities, camping, travelling and are environmentally conscious.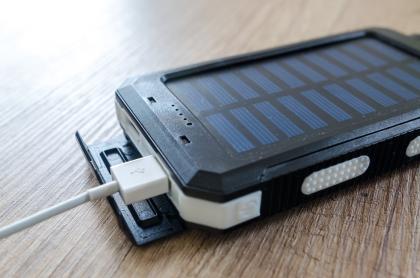 (Image Source)
With a growing awareness of power shortages and energy usage, this promotional item is  niche utility driven product. Ideally you want to give one that charges multiple devices, like smartphones, tablets and laptops, so your customers use your product just when there's no power source around.
Products like these are often 'life savers' when your customers need their devices most! More importantly, you'll be seen as a brand that's eco-friendly.
4. WiFi Smart Plug
As people become mainstream adopters of voice technology, the WiFi smart plug is an all new, utility providing promotional product. Once it's installed by users, they can easily control devices in their house through their smartphone, Amazon Alexa, or Google Home devices.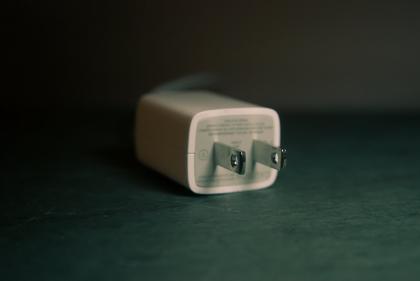 (Image Source)
What's awesome is that they're cost effective, easy to install, and a product nearly everyone loves to use. All that the user needs is a Wifi network to sync the plug with, and they can be on their way to switching on/off lights, power switches, music and lot of other cool things!
5. Portable Bluetooth Speaker
Nearly everyone loves music. And what better of streaming music other than through a wireless speaker! Bluetooth speakers allow users to stream their music, and enjoy listening to it!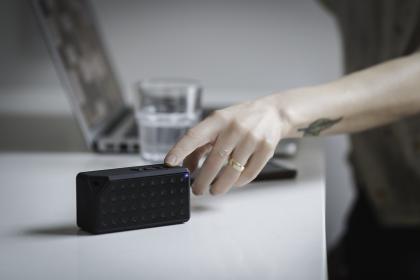 (Image Source)
Even though they're now widely available at all electronics stores, the good thing about bluetooth speakers is that not everybody has them! There are many users who would be late adopters of this product, so you've got plenty of room to add value to their lives through this promotional item.
Provide a bluetooth speaker that syncs easily, has a long battery life and has good sound, and you'll be on your customers minds for a long time to come.
6. The Ninja Loop
Another promotional product that makes a great give away at trade shows, exhibitions and otherwise is the "Ninja Loop". It's basically a phone strap that allows users to grip their phones easily, preventing the damage caused to them when they're dropped on the ground!
Interestingly, people love to use the grip when they're lying in their beds holding their phones above their faces to view the screen. The grip let's users use fingers on both their hands, while still being able to grip the phone.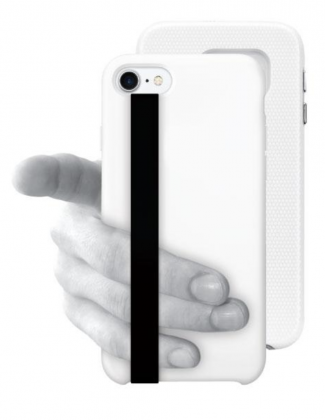 (Image Source)
It's inexpensive, trendy, and a great way to be remembered. And the best part is that users love them!
In summary, there's a whole range of new and trendy products you can use as promotional gifts in 2018. Take full advantage of them in your promotional item mix to remain popular among your audience by adding value in interesting and meaningful ways!
Reach out to Good Things to explore how we can help with your promotional product needs.