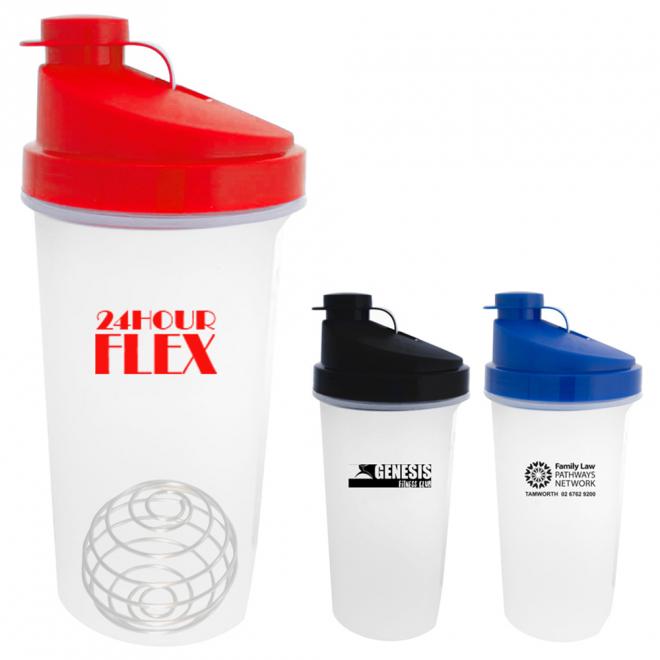 Description
Shake and mix up your favourite energy drink, power protein shake or diet drink in this 700 ml plastic shaker.
Features a screw on flip top lid with an easy pour spout and a strainer to help break up the powder in protein shakes.
Imprint Area: 45 mm(W) x 45 mm(H)
Available Colour/s: Frosted Clear with Blue, Black or Red Lid
Pricing: All prices are ex GST and in Australian Dollars. Prices are subject to change at anytime, please add to your enquiry to confirm pricing.
Note: 24 hour turnaround is available but limited to 1 colour / location imprint.
Rush Surcharge Fee is $100 for 24 hours TAT.
Our Guarantee
All of our products are fully guaranteed to operate, look and feel as designed.
Our most highly regarded company value at Good Things is integrity. Simply put, we do what we say we are going to do in a timely fashion, our goal is to get "Back in a Flash" to all our clients for quotes, artwork and samples.
In our industry it's essential: From meeting delivery deadlines through to having a product match a sample when delivered to each minute detail.
When dealing with us you can expect to get exactly what you ordered as agreed, and on time, that is the Good Things Guarantee.
Production Time
24 hours to 10 days from artwork approval.
The 700ml Power Shaker
We'll email you a quote within 10 minutes
Review Product