What Are The Best Promotional Items Your Customers Will Respond To?
More than 80% of consumers crave promotional items.
If the of majority customers crave them, you need to ensure your brand is satisfying this craving! The last thing you want is to give away promotional items that are boring or don't add value.
Better quality promotional items that your customers appreciate are likely to last longer, create more impressions and generate a higher ROI. So your goal as a marketer should always be to give the best promotional items that have a wow factor and build brand goodwill.
In this article, we'll cover the 6 best promotional items to give to your customers and prospects.
So what do we mean exactly when we say the 'best promotional items'?
The best promotional items are the ones that:
Your customers value and appreciate.

Are highly durable, last long, and used by customers for a minimum of 6 months.

Are modern, contemporary, and well designed.

Provide a great cost per impression.

Solve a real customer problem.

Are relevant to your current and future customers.
So let's look at some of the best promotional items to give away:
1. The Stylus Pen
Giving away basic pens as promotional items is very outdated and boring. There's just nothing special about giving some pens to people!
That's why, a great promotional item to give is "The Stylus Pen". It's not only a regular gel ink pen, but can also be used as a stylus, and a mobile phone holder. They're also easy to produce in relatively short time periods, so if you need them urgently, we can make them quick.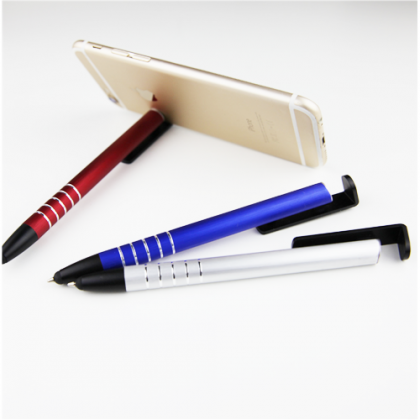 (Image Source) Check out some of our stylus pens here.
Why it's one of the best promotional items to give away?
Given that a lot of people no longer use pen and paper, and are moving to a paperless way of taking notes on their tablets, a stylus pen is undoubtedly one of the best promotional items to give away.
2. Credit Card Sized Multi-Tool
Everyone needs tools around the house. We've normally got a tool box for home and office use, but we're completely stranded when we're on the road and don't have a knife to make a quick cut, or a bottle opener to open a beer.
That's why we've got this credit card sized multi-tool, which is a bottle opener, a scale, a knife, a phone stand, a letter opener, a screw driver, a can opener and a can opener, all in one!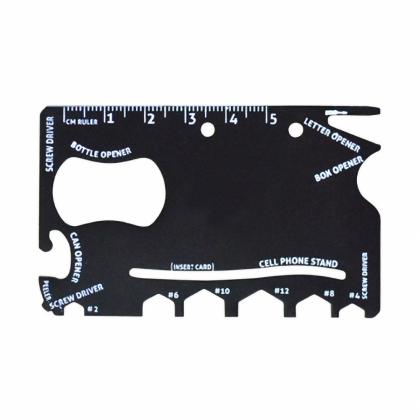 (Image Source) Check out our credit card sized utility card here.
Why it's one of the best promotional items to give away?
The product speaks for itself. It's incredible how it fits so many utility tools into one card that customers can fit into their wallets easily. Most people don't carry one, and it's new and something a bit different that they would love to use.
3. Smartphone Fan
If your prospects are in a hot country or location, one of the best promotional items you can give them is a smartphone phone. It connects easily to a smartphone, both iPhone and Android phones, and instantly cools you off in the heat.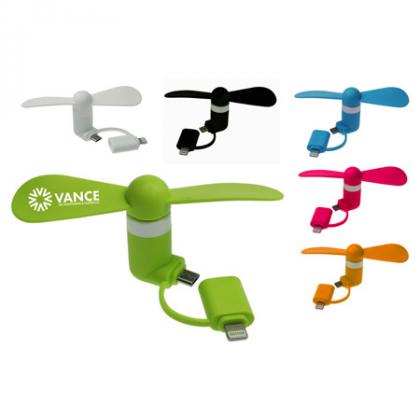 (Image Source) Check out some our smartphone fans here.
Why it's one of the best promotional items to give away?
The sky's the limit on what smartphones can do these days, so why not give smartphone fans to help your customers keep cool! They're different, come in multiple colours and are very safe to use. Something your customers will love!
4. Wireless Smartphone Charger
Charging your smartphone with wired cables is inconvenient. Charging it wirelessly is in vogue. As smartphones start removing headphone jacks and other ports from the body of the phone, customers will gradually shift to wireless charging.
The great thing about wireless charging is that it has a 'fast charging' mode too, allowing customers to charge their phones faster and better.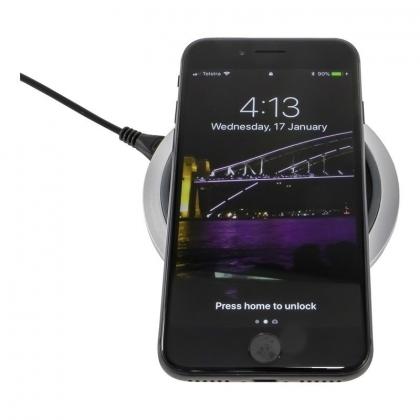 (Image Source) Check out our smartphone wireless chargers here.
Why it's one of the best promotional items to give away?
It's progressive, and offers customers a convenient way to charge their devices. People are likely to have 'fixed charging stations' around their homes via having these wireless smartphone charging spots. So they'd have even more when you give them one!
5. Bluetooth Speakers
Bluetooth speakers are really hot at the moment! They're convenient to carry outdoors or indoors, play great sound, and add life to the music on your phone. People love them.
The best bluetooth speakers come with FM radio, a good bluetooth range to stream music from your phone, a good standby and music playback time with minimal charging time required.

(Image Source) Check out our awesome range of bluetooth speakers here.
Why it's one of the best promotional items to give away?
It's portable, and loved by people who love music! It can never go unused. And, it comes in different colours, shapes and sizes.
6. Wrist Fitness Trackers
Another increasingly popular category of promotional products is health & fitness trackers that people can wear around their wrist. This category is particularly loved among Gen Y folks, since they're tech savvy, interested in health & fitness and are mostly addicted to their smartphones.
Giving away a good fitness tracker and that syncs easily with iOS or Android mobile devices is the key to this product's success. You want your customers to feel like you truly care about their wellbeing, and the only way to do so through this product is it's ease of use, durability and compatibility with the devices they use.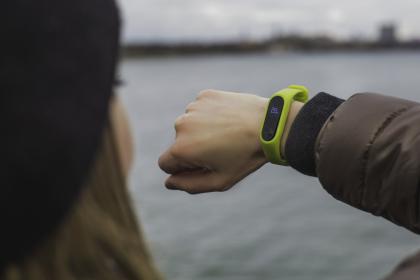 (Image Source) Check out our tech friendly branded promotional products here.
Why it's one of the best promotional items to give away?
Fitness trackers usually give users important information, like the number of steps they walk per day, their heart rate, blood pressure, the number of hours they sleep and more information on their activity. Users love to keep track of their health!
So there you are with a list of the six best promotional items to give away to your customers. It's great practice if you make your own list of the best promotional items to give your customers so you can use it as a guiding tool on what to order with your promotional merchandising partner!
Reach out to Good Things to explore how we can help with your promotional product needs.