Businesses often neglect promotional products while formulating their marketing strategy. They assume these products wouldn't create a lasting, tangible impact—especially when online advertising today provides an instant impression on potential customers. 
But they couldn't be more wrong. 88% of all customers in one survey said they remembered a brand better once they'd received a promotional product from them. 85% even said they'd do business with the brand after receiving the item. 
It's not just about a free product; it's about showing you care and making customers and employees feel valued. 
But you cannot simply put your brand's logo on any product and expect great results. Using promotional products effectively translates to finding a product that resonates with your target audience and is in high demand. It gets all the more intimidating when you see the magnitude of the items available in the market.  
So, let us help you out. After rigorous testing and research, we've found the top seven promotional products that should be on your radar in 2021—and we're also sharing the various ways you can use them.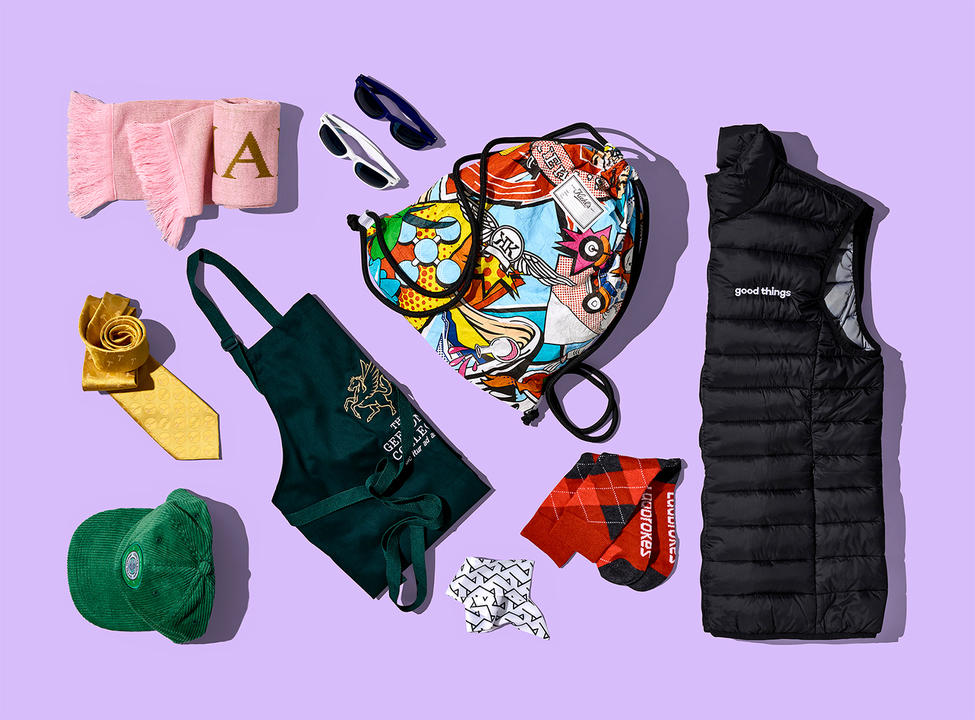 1. Socks
Socks are becoming less about cushion and more about fashion. The statement socks are gaining popularity, and brands are here to take a slice. Netflix had its DIY socks in 2015 and Google sent a free pair of branded socks to its Local Guides users in 2018.  
Why do socks make for great promotional products? Because they're easily customizable and versatile. You can choose the color, design, material, and their applications can range from casual to formal to athletic. 
It's also a unique promotional item. You won't see every other brand using it, which makes your company all the more memorable. 
Good Things can help you design custom socks for your brand. The best part? We're eco-friendly. All of them are 70% bamboo and 30% combed cotton.
How to use socks as a promotional product
Distribute in trade shows and conferences

: It'll make your booth stand out and may increase word-of-mouth marketing for your brand.



Promote a cause

: If you partner with an influencer or a non-profit, you can make custom socks together, promoting both causes.



Add to existing collateral

: Socks are a great addition to corporate gift baskets, freebies, and giveaway products. You can take it up a notch by customizing it for each customer or stakeholder.



Giveaway for employees

: You can give socks to your employees or new hires to show appreciation and make them feel welcome. 
2. Corporate uniforms
Corporate uniforms are the workwear your employees wear in the office—like shirts, jackets, skirts, and formal pants. They can help create a consistent business image, promote your business, and boost your brand identity. 
Don't buy it? One study found that nearly two in three adults report that seeing uniformed employees positively impacts their perception of a company.
Think about it: Why do you reach out to the person wearing a familiar blue t-shirt with a logo at the center in an Apple store? A branded uniform makes it easy for clients to reach out to the right person and get better customer service. 
Not only that, but research has also found a positive correlation between uniforms and an employee's sense of belonging—even for those employees who don't interact with customers on a daily basis. 
When people travel to and from work, go out for lunch, and take breaks in their workday, they act as your representatives and advertisers. 
At Good Things, we have a wide range of corporate uniforms to suit all budgets and industries. You can also browse through our face mask collection to make it a part of your workplace attire in the new normal.
How to use corporate uniforms as a promotional product
Ensure high-quality

: Keep the uniform casual, relaxed, durable, and customized to fit.

Research says

business casual is your safest choice.



Add face masks

: Face masks will not only make employees feel safer, but you can expand this promotional product to include consumers too.

57% of consumers

in a survey said they're more likely to do business with a brand that gave them a promo mask.



Use for rebranding

: If you're changing your logo or slogan, a corporate uniform is a great place to get the word out about your rebranding.



Giveaway to new employees

: Gifting workplace attire to new employees or independent contractors is a wonderful way to make them feel a part of the team.  
3. Custom caps and hats 
Elon Musk raised a whopping $300,000 using his branded cap for his tunnel-digging venture, The Boring Company. 
It's safe to say stylish headwear is making a comeback and it looks like it's here to stay. Even online search volume for hats has been consistently rising since 2020. 
Producing a customized cap or hat is a great marketing tool because they're cost-effective, highly customizable, and come in various ranges and types. They're unisex, so you don't have to worry about size or gender, and they can survive lots of wear and tear.
The cherry on top? Consumers love them. 69% of consumers in one survey said they owned promotional headwear and kept it for an average of 10 months. 
The sun's hot here in Australia, and we have a variety of headwear to protect you from it—from the sun hat to bucket hats. The event cap is perfect for your formal corporate events, and if you've got some outdoor-loving customers, our suede peak cap makes for an ideal gift. 
How to use custom headwear as a promotional product
Utilize trends

: Caps and hats have a lot of fashion value. You can participate in trends and give your customers free, branded, trendy headwear as a freebie or giveaway reward.



Fundraise

: You can use customized caps to fundraise your new venture or support a cause.



Add to uniforms

: Headwear can be a great addition to corporate uniforms—especially for employees who travel or work outside.



Distribute during outdoor events

: A cap or hat is a functional item for outdoor events and trade shows. You can even sell your branded hats to get the word going about your brand.  
4. Water bottles
92% of consumers say they keep a promotional item because it's useful. A water bottle is a practical, effective, and functional promotional product which can generate over 1,400 impressions for your brand throughout its lifetime. 
The best part about water bottles is customers and employees carry them everywhere—at the gym, at the office, on a hike—resulting in repeated exposure for your brand. 
They're also customizable and come in a variety of sizes and shapes. The larger the bottle, the larger the advertising space for your company. Some metal drink bottles are also multipurpose and can store beverages like tea and coffee to keep them hot. 
46% of consumers have a more favorable opinion of a brand if the promo product they receive is environmentally friendly and sustainable. This is why at Good Things, we also have customizable eco-friendly glass bottles and reusable double-wall bottles. 
How to use water bottles as a promotional product
Personalize bottles

:

Personalization

is a winning strategy. You can print a customer or employee's name on a branded water bottle and gift it to them.



Support a charity

: You can giveaway promotional water bottles at charity runs by designing them for the cause you support. 

Distribute to local sports teams

: You can distribute customized water bottles to sports teams. They always need them and can serve as excellent brand ambassadors.



Host an online giveaway

: A water bottle is a great giveaway or gift item for online marketing campaigns. 
5. Promotional pens 
Promotional pens can help grow your brand because of their lasting impact—they're kept for an average of nine months and generate 3,000 impressions over their lifetime. 
Research has even shown pens are one of the most popular and favorite promotional items. 89% of US consumers in a survey reported having a promotional written instrument. 
There are many advantages of using promotional pens: they're cost-effective, have a wide range of choices, and can be a valuable item for employees, customers, and stakeholders alike. 
And it's not limited to the person who gets them—pens have a way of getting around to colleagues, family members, and friends when borrowed, which generates more advertising for your brand. 
Good Things has a variety of promotional pens available—from eco pens made of bamboo to premium pens suitable for corporate events to pen packaging for gifts. 
How to use pens as a promotional product
Offer as a freebie

: You can give promotional pens as a freebie to consumers who are part of your loyalty program or purchased a large order.



Give a gift

: Promotional pens make great gifts for old and new employees alike. They can get tons of use out of it at the office and beyond.



Pair with other items

: Branded pens are a fit addition to gift baskets and large giveaways.



Come in clutch at corporate events

: You can distribute logoed pens at conferences, trade shows, and other corporate events where people might need them. 
6. Tees
Coca-Cola experimented with giving a free t-shirt at three of the busiest rail stations in London for their #ChooseHappiness campaign—noted as one of their best activations of the year. 
Sujan Patel, the CEO of the digital marketing company, SingleGrain, gave away t-shirts, making him over $500K in revenue. Even email marketing company Mailchimp decided to give away 1,000 free tees to their social media followers. 
It's indisputable that t-shirts are one of the most popular promotional items. And for a good reason: One study found they have the highest recall value at 85%. Another survey found 80% of consumers own a promotional tee, which can generate over 3,400 impressions. 
They're never out of style, offer a ton of advertising space, and have endless customizations available. If done right, a branded t-shirt is sure to give you the bang for your buck. 
Good Things offers promotional t-shirts for both men and women made of high-quality material and customized however you want. If you need to take your apparel game up a notch, we also have hoodies and jackets for the winter months and singlets and tank tops for team-building activities or events. 
How to use tees as a promotional product
Combine with uniforms

: If casual workwear works in your industry and goes with your brand, you can combine corporate workwear and tees for employees. Or you can distribute promotional tees for casual Fridays.



Give away as freebies

: Branded tees are a solid giveaway item for customers who have participated in your marketing campaign or have just made a big purchase.



Offer to participants in your events

: If your company sponsors an event, create tees to hand out to participants. For instance, if you sponsor a charity or a run, you can offer promotional tees to participants as a thank you. 
7. Branded bags 
What's in the bag, you ask? It's 3,300 impressions over 11 months. Promotional bags are the sweet spot between giving something aesthetic and useful to your customers or employees. 
Bags have a lot of variety, too—you can opt for tote bags, laptop bags, duffel bags, etc. At Good Things, we even have wine bags and paper bags. 
The large surface area also makes for decent advertising space. You can go beyond the traditional logo and slogan and spice up the branded bags with some personality like the European Consulting team, Integrated Consulting Group, did by their unique bag design. 
How to use branded bags as a promotional product
Sell in trade shows

: Take your branded bag to a trade show or corporate event. People will be seeking out something to store their goodies and swag, and your bag can be the perfect solution.



Give a corporate gift

: Fill up your bag with brand collateral or other promotional items like socks, pens, headwear, or water bottles as a corporate gift.



Offer employees a personalized gift

: Supply branded bags to new employees to keep their laptop and desk accessories. You can take it up a notch by also embroidering their name into it.



Donate

: If you're part of a local school charity or support a similar cause, bags can be customized and then donated to a relevant cause. 
Which promotional product is right for your business?
Promotional tools have great value and can help your business—but only if used correctly. 
It's important to remember that every industry, brand, and customer is different. While these seven products provide various possibilities, be sure to customize them according to your company, buyer persona, and trends to maximize their effectiveness. 
Here are some key questions you should ask yourself:

Is this promotional product useful and long-lasting?

Do my customers, employees, or stakeholders need this product? 

Will this promotional product be repeatedly used? 

Does this promotional product fit my brand values, mission, and budget?
Contact Good Things to find items that delight and create a lasting, positive impact for your business.