As marketers, deciding where to allocate your budget can be a real challenge. Ideally, you'd like to invest your advertising dollars into a marketing channel that's cost effective, consistent while producing the highest return on your investment.
Investing in digital advertising can be a great strategy for producing quick returns in the short term, but if you're considering building a brand, you can never underestimate the importance of promotional products. The truth is promotional products make an impact through the number of impressions they receive. The 'number of impressions' is calculated by multiplying the length of time a person has a promotional product with the number of people who see it each month. Check out some stats below: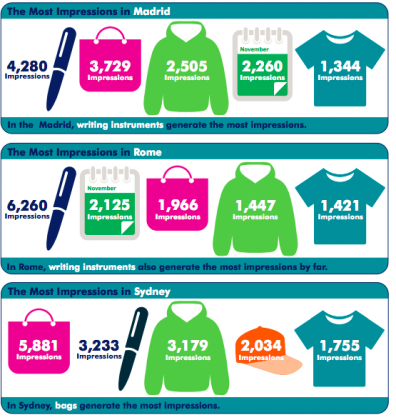 Clearly, different promotional products receive a different number of impressions across different regions. In Sydney, bags seem to have the most impact. Whereas pens seem to do very well in Europe.
With the number of impressions promotional products get, it's no surprise they receive a lot of attention from customers, whether consciously or subconsciously.
For the purpose of this article, we'll look into comparing promotional product marketing with online marketing on the basis of a few common metrics. You'll get a clearer view on how both marketing channels perform, and when to use which one!
NOTE: Want your own promotional products to wow your customers and turn prospects in to life long, paying customers? Good Things can help.
Promotional Products Vs Online Marketing
Criteria 1: Cost
The cost of online marketing depends on many factors, such as whether you're advertising on owned, earned or paid media, the keywords you're targeting, the location of your ads online, click through rates etc. The list is never ending!
Promotional product marketing is relatively simple in the context of cost calculation . All it depends on is the price you pay for the quality and quantity of the products you buy for your target market.
Promotional products have the lowest cost per impression when compared to all other channels of marketing, including digital marketing. As per the image below, the cost per impression of promotional products is a nominal 0.7 cents, while that of mobile/internet advertising is between 0.7 cents and 1 cent.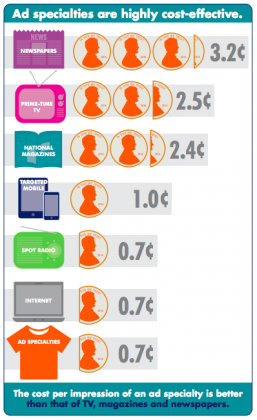 It's the consistency and continuity of exposure to promotional products which make them a winning branding strategy. The point is, that a consumer who uses a pen with your brand's logo on it will be more likely to do business with you, compared to a consumer who only briefly sees an ad you put up online. Memorability makes all the difference.
Criteria 2: Return On Investment
The term 'return on investment' usually refers to the amount of profit you make, in dollars, on the investment you make. However, in the context of promotional products, this can be hard to calculate, since there is no direct link between the amount of profit you generate, and the cost you incur on promotional products.
But if you look at 'return on impressions' as a way to calculate your return on investment in promotional merchandise, you may be pleasantly surprised. 'Return on impressions' is focused on making an impression on customers, and eventually generating revenue from the positive impact these impressions have on your overall brand image.
On average, consumers keep promotional items with them for up to 8 months. If you improve the durability and quality of your promotional giveaways, consumers will keep them for longer than 8 months, increasing your ROI (return on impressions) as customers see you as brand that provides quality products.
To be more accurate in calculating an ROI from promotional products, you can calculate the ROI from a specific promotional campaign, where you only give promotional products when a customer makes a purchase. Another way to simplify the calculation of ROI would be if you put a call to action on your promotional products, like a phone number customers can call on, so you can measure exactly how many calls you get from your customers on that specific number. This can be a great way to see if customers make contact.
While ROI may be easier to calculate for digital advertising through monitoring customer clicks and purchases from an ad, an ad will only generate an ROI as long as the brand has a live ad running online. This implies that you can only generate a return on your investment, if you continue to allocate a healthy budget towards advertising online, which can be a costly endeavor, with a diminishing ROI over time.
So in this context, promotional items can be safely considered as a 'longer term' marketing investment, and investment in digital ads (like facebook ads or google ads) would be a 'short term' marketing investment.
Criteria 3: Brand Building, Memorability & Customer Experience
Promotional products have the distinct advantage of providing utility to your customers. 69% of consumers would pick up a promotional product if it was useful to them. On the other hand, the only 'utility' online marketing can provide to your customers is through providing information of value. And with the amount of information being published online everyday, you'd only create more content 'noise' if you publish information similar to the content that's already out there. Clearly, promotional products trump online marketing with flying colours in this realm.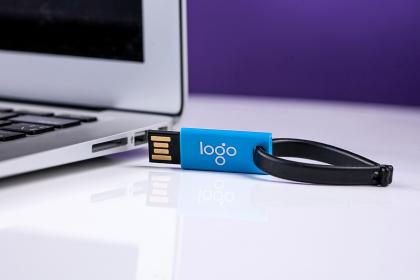 A study conducted by Promotional Products Association International (PPAI) interviewed customers to figure out if they remembered a promotional product they received in the last 2 years, along with the name of the advertiser and the message displayed on it, and a whopping 76.2% could remember all 3 pieces of information. That's the power of promotional product marketing!
In a nutshell..
Promotional products are a cost effective, long term, sustainable marketing strategy that build your brand, are useful to your customers, and yield a return on investment over a period of time through the number of impressions they make. Online marketing, on the other hand, does not get the same exposure over a prolonged period of time.
Think about it, would you rather have your customer use a pen with your logo and your contact details for 8 months, or would you rather have them see your ad online for a fraction of a second when they're online browsing for something? Make the right marketing decision and invest wisely!
NOTE: Want your own promotional products to wow your customers and turn prospects in to life long, paying customers? Good Things can help.