What is brewing in the exciting world of promotional products? Earlier this month, the Good Things team attended the PPAI Expo 2021 to gear up for the year ahead, pun intended.
We reflected on our learnings from the expo, and our knowledge of the industry and came to a conclusion. The already growing sustainability movement only appears to be gathering more momentum.
Already a hot topic in markets across the globe, companies are finding new ways to offer
eco-friendly
product options
.
A recent
Nielsen survey
found that 81% of global respondents feel
strongly
that companies should help improve the environment
. 
Trends in other industries solidify this.
Resale and secondhand alternatives are taking over in fashion, and FMCG customers are becoming more mindful of their purchasing habits
. PPAI predicts that sustainable promotional products will be top sellers. We foresee this movement driving how marketers make buying decisions. Hence, Good Things is taking every step we can support the eco friendly movement and do our part to save the planet. 
"

Since starting Good Things, we have always had a solid range of

eco-friendly

products

", co-founder Jeremy Chen shares
. "
The biggest shift in the last 3-5 years has been the growing interest in the movement.
Subsequently
, the variety of product offerings have increased ten fold.
There has also been a big shift from eco options being 'nice to have', to being 'required', along with social and ethical compliance
. We only see this heading in one direction.
"
We've rounded up a few
sustainable
promotional products for your back to office needs.
Here at Good Things, we are big fans of eco-friendly promotional pens. How many times have you needed a pen, but didn't have one? Pens are always an excellent promotional product to give to your customers. With a long shelf life, the 'impressions' for your brand can be endless. Having your logo front and centre is great, but we are trying to balance this with reducing our use of plastic. Did you know that in Australia alone, disposable pens add 700 tonnes to landfill each year? Opt for our Bamboo Pen instead. As the world's fastest growing plant, bamboo can grow to its full size in 2-3 months, unlike regular trees which can take 30 years to grow. Bamboo ticks many boxes when it comes to sustainability, as it requires no pesticides to grow. It is also 100% biodegradable. As a functional and affordable branded product, our Bamboo Pen is a product that provides the best bang for your buck.
Not sure what to do with your stationery once you've finished using them? Check out TerraCycle's Writing Instruments Recycling Program. 
A5 Eco Recycled Leather Notebook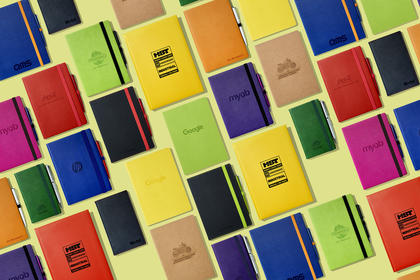 A great accompaniment to the
Napier Bamboo Pen
is our
A5 Eco Recycled Leather Notebook
to write your daily to-do lists and meeting notes in
. What
is recycled
leather?
It is a composite of shredded leather scraps and residue from tanneries and leather product manufacturers
. The scraps go through scouring processes and
are cleaned
thoroughly
. This allows consistent colouring and an even texture. Leather-bound notebooks
are sophisticated
and stylish, making them a popular choice for professionals.
In our movement to become more
environmentally
friendly, we have introduced customisable recycled leather notebooks to our portfolio of sustainable promotional products
. Better yet, the pages come from paper from sustainable forests.
Enjoy the look and feel of your personalised recycled leather notebook, which is as durable as leather, and better for the environment
.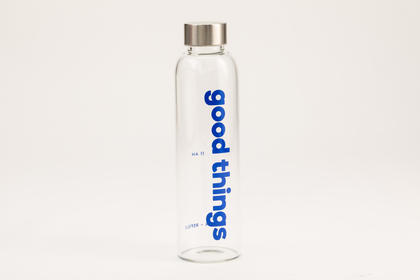 Not to alarm you, but about 373 million plastic bottles end up as waste each year in Australia.
Hence, the Good Things team love reusable glass drink bottles, and will choose them over single-use drink bottles any day
. Glass is a sustainable,
fully
recyclable material. It can be
endlessly
reprocessed with no loss of quality.
With a lot of us returning to the office this year, our
Venus Glass Bottle
makes the perfect gift for your staff or customers
. Our customisable 600ml promotional glass bottles are a brilliant marketing tool. You can showcase your brand while keeping hydrated!
The year is only beginning, and we have a lot in store 2021.
A central part of our vision is to
continually
scour the world for high quality sustainable promotional products
.
If we can assist you in meeting your marketing objectives in an
environmentally
responsible way, please get in touch
.