Brands that use physical products to market their businesses will inevitably stand out amongst the rest. We live in an age where digital advertising is becoming increasingly overwhelming. So, branded promotional items are often a breath of fresh air. And, very often, simpler is better when it comes to promotional products. 
Branded pens are a prime example. You see, while many companies gravitate towards more exciting and less useful promotional gifts, promotional pens are far more likely to have a lasting impact. They are also among the cheapest ways of making a positive impression on consumers. After receiving a promotional gift, customer opinion of a brand always improves. 
Keep reading to find out why out of all promotional products pens are the best way to go. From the amount of choice you have to how cost-effective they are, there are so many reasons to market your business with free branded pens. 
Why Promotional Pens? 
As with most physical marketing products, promotional pens tend to remain with the consumer. They're not like irritating television adverts or easy-to-ignore posters at bus stops. Instead, the advertising space on promotional pens will be seen, used, and carried around on a day-to-day basis. So, much of their potency lies in their staying power. 
They're also really easy to distribute. You can do it at trade shows, conferences, or meetings, or give them out to shoppers at physical store locations. While they aren't the flashiest of free gifts, free promotional pens will absolutely make your clients or customers feel valued. It's probably the most cost-effective way of showing your consumers you care.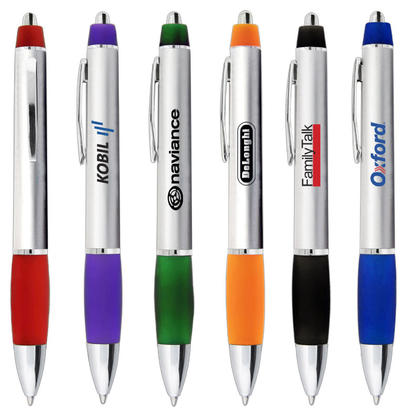 If you're still asking yourself why use promotional pens, then consider the long-term implications of a happy customer. They will be more likely to remember your brand and more likely to do business with you again. The result is that your revenue shoots up after you hand out promotional pens. At such a low price point, that's an impressive payoff. 
8 Advantages of Using Promotional Pens 
The advantages of using promotional pens don't stop there. There are eight more key benefits of incorporating free branded pens into your marketing strategy. If you're still unsure whether branded promo pens are right for your business, read on and have your mind changed.
1. Choice 
For starters, there is an incredible amount of choice when it comes to promotional pens. So, you can select the products that best suit your business. You could, for example, invest in promotional uniball pens, easy-to-use BIC click-top pens, or low-cost plastic pens if your budget is tight. As long as they're good quality and look the part, your customers are sure to love them. 
Or, if you wanted to gift your company's promotional pens to executive clients, you could opt for a premium selection. Consider a beautiful silver metal refill pen that comes in a stunning black case. There are few better ways to represent your business's commitment to quality and client satisfaction.
2. Price 
Regardless of the types of promotional pens you choose, they're sure to be great value for money. And, yes, that's the case even if you invest in premium pens for your most valued clients. This is because promotional products in general are cheaper per impression than any other form of media. 
According to the Global Advertising Specialties Impressions Study, promotional branded pens cost an average of around $0.005 per impression, as do other promotional items. Therefore, if you opt for cheap promotional pens, your ROI is likely to be massive. In other words, you'll get a lot more bang for your buck with low-cost promotional products than other forms of advertising. 
3. Exposure 
Just like all promotional products, promotional pens offer your brand exposure. However, few other products provide quite as much daily exposure as a pen. As a study from the Advertising Specialty Institute found in 2016, consumers generally keep promotional pens for six months. Not only that, but during these six months, they're likely to use the pen most days.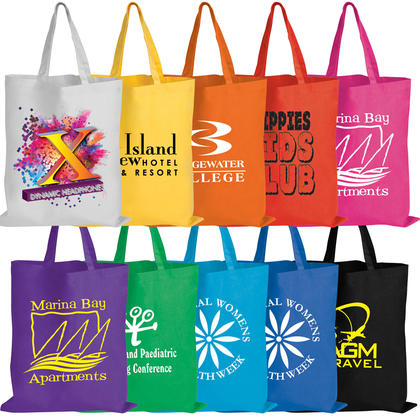 One downside is that pens that are used daily will eventually run out. So, your consumers likely won't keep them for as long as, say, a branded umbrella or a tote bag. However, the pros still outweigh the cons. Promotional pens will spend more time in a person's hand than pretty much any other type of branded item. They are, then, a fantastic way to increase brand awareness. 
4. Practicality 
This brings us to our next advantage: how practical pens are. As such, people of all types will get plenty of use out of them. Office workers and students in particular need pens. That's why you'll usually find brands handing them out at conferences or student fairs. Other people need them, too, and many will use them every single day. 
The more people use promotional products, the more likely they are to commit your brand to memory. So, given that it takes between five and seven impressions for a consumer to remember your business, promotional pens are the best way of making that happen quickly. 
5. Customisability 
With custom promotional pens, you have a blank canvas on which to display your most important branding information. Your logo is the first thing you're likely to include, being perhaps the most recognisable part of your brand's image. Then, depending on how you want people to find you, you could add your company's name, address, website URL, email, and telephone number, too. 
Thanks to custom promotional pens, then, consumers will always know who you are and how to find you. 
6. Eco-Friendly 
One thing you might not associate with promotional products is environmentalism. But, actually, with branded eco pens, you can prove that your company cares about the planet and the customer. There are several different options for you to choose from, too. Save money with low-cost recycled paper barrel branded eco pens or spend a little more on bamboo click-tops.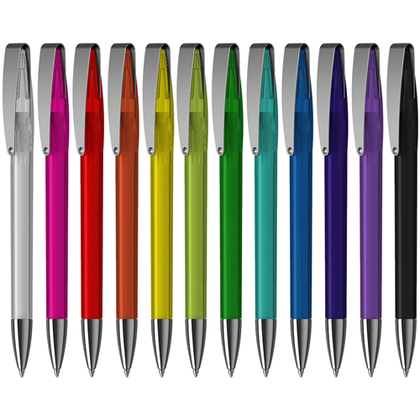 It's worth noting here that Australians care about the environment more than ever before. As a result, opting for sustainable promotional pens will be a smart move for many businesses. People want to know that brands care about the same issues they do. So, let them know that yours is committed to making a difference.
7. Client Loyalty 
Loyalty is a precious commodity in the business world. A loyal customer will keep coming back to the same business, bringing in more revenue and driving profits. However, there are a lot of companies out there all competing for your target audience's attention. With promotional pens, you can rise above the noise and secure repeat business. 
It was mentioned earlier that consumers who receive promotional products are more likely to remember your brand. That's not just speculation. As the Promotional Products Association International found, 88% of consumers can recall the advertisers on their branded products. And, not only that, but 85% of people will then go on to do business with that brand again.
8. Memorable 
This point has been touched on throughout, but it's worth reiterating that promotional pens make brands more memorable. This is because, every time a person picks up that pen and uses it, your business makes an impression. While your client or consumer might not need your brand at that very moment, when they do, yours will be the first business to pop into their heads. 
To put it another way, your business's promotional branded pens help to embed a message in the minds of consumers. Now, it is true that other forms of advertising might do the same. But, they certainly won't do so as quickly, effectively, or at such a low cost. 
The Unexpected Power of Promotional Branded Pens 
You may not have expected promotional pens to be such a powerful marketing tool. But, in reality, they are among the most cost-effective forms of physical marketing out there. For one thing, they're cheap to produce and easy to distribute. For another, they're highly practical and widely used, meaning they'll make plenty of positive impressions in a short amount of time. 
There are a lot of great options out there, too. You can add your branding to promotional uniball pens, branded eco pens, or premium pens, depending on the consumers you're trying to reach. Either way, they will help you gain long-term customer loyalty and an improved ROI for your marketing efforts.