How to Successfully Run a Product Marketing Campaign
If you're a marketer, one of the things you'd most likely have in your career wishlist is to run a viral marketing campaign. Reaching millions of people in short spans of time can be a dream come true for most marketers!
The amazing thing about this dream is that it's possible, and today we're going to show you a way that might just get you there. But even before we begin, we need to understand what a 'viral marketing campaign' is in the first place. Here's the 'theoretical" meaning:
"Viral marketing is the rapid sharing of an idea, a portion of this idea contains a marketing message about buying a product or service."
In short, it's when your online product campaign goes nuts online, like a big massive wave spreading fast. Think google, dropbox, facebook, they're all products that succeeded with marketing that went viral. It's how people got to know about these products, and just kept spreading the word!
So how can you make it happen?
In this article we'll give you a 3 step formula that can help you run a viral product marketing campaign. All you need to do is follow the steps, and give it a shot!
Step 1: Do Something BOLD And Give Real Value.
The last thing you want is to be boring. You've got to stand out, and your marketing campaign content or product has to be different, unique, bold and interesting.
Facebook went viral because people at Harvard shared interesting aspects of their lives online, including their relationship status, so people kept coming back for more. It was a bold move to allow people to share their personal information, and let others see it.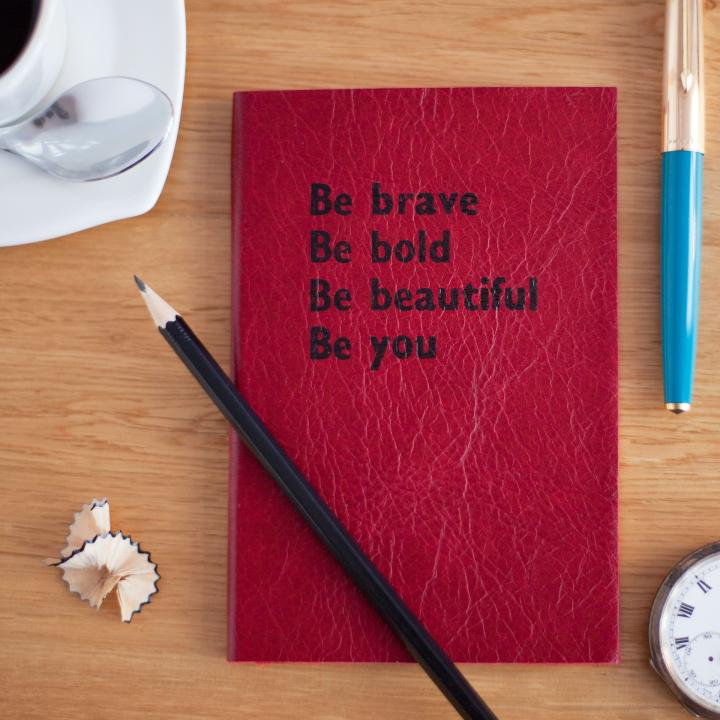 Dropbox grew 3900% in 15 months because of it's referral marketing campaign going viral. They offered real value by giving additional free cloud storage space when users invited their friends to join or sign up.
Clearly, if you're bold, and give real value, it's the perfect way to first, stand out for the right reasons and get a ton of attention, and second, to build virality by giving people value when they share your offer with the world.
Learning from this and in the context of promotional product marketing, it's possible to create virality around the promotional products you distribute to your customers. By adding a bold message to your promotional items, you can stand out from the crowd. And if you incentivise the distribution of your promotional products by giving them when customers transact with you, customers might want to buy your products and services. It's clever, and has a chance of going viral!
Step 2: Team Up With Interesting Partners Who Can Build Your Reach
By teaming up with strategic marketing partners, your campaign has a high chance of getting access to a much larger audience. You get the benefit of reaching your own audience, and their audience, which adds magic to your campaigns, and business relationships.
The perfect example of this is Cadbury teaming up with Facebook to create a giant chocolate 'like' button.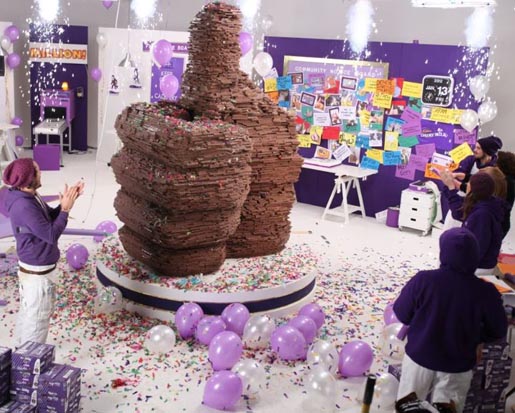 The idea to make the like thumb was initially meant to be a thank you gesture to Cadbury fans to help them reach 1 million likes on Facebook. But the campaign gained a lot of popularity and got another 40000 likes in a few hours. Cadbury uploaded a video of the thumb being constructed, which was watched by millions of fans around the globe, adding to the viral nature of the campaign.
This partnership shows how 2 brands who're loved by customers, Facebook and Cadbury can come together and get thousands of people talking about them. Why not apply some of this wisdom to your promotional product marketing campaigns?
There are a bunch of ways you can team up:
Pool in funds to buy better quality promotional products for a common target market.

Ask customers to share photos of each other's promotional items on social media.

Create complementary promotional items so customers are incentivised to go to both partners.
Use your imagination to create viral promotional product marketing campaigns that your audience loves.
Step 3: Make Your Campaigns Interactive
Don't just give promotional items to your audience. Use it as an excuse to begin conversations, spark off new ideas, and get people to interact.
Marketing campaigns that go viral usually happen when lots of people start talking about it. This can only happen when you induce them to interact!
Heinz, the ketchup company, created an interactive quiz online titled "Which bean are you?". Notice the catchyness of it? See how it's asking users a question, and asking them to click and give answers, so they can share it later?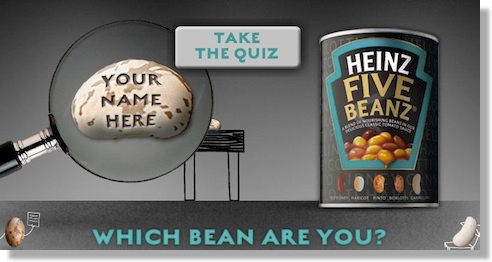 People love personality quizzes like this, because who doesn't like to know more about themselves!
Applying the same principle to promotional products, here are some interesting ideas for you to consider, to help your campaigns go viral:
Add a personality quiz to USB flash drives you distribute so people who get them have something to share on social media. It could be a great way to combine online marketing with promotional products!

Print QR codes on any coffee mugs you distribute as promotional products. Again, a great way to combine social media marketing with promotional products to get people to share more your message with the world.

Make interactive promotional products. This could be promotional products that ask your prospects to take some action and get rewarded for it. Could you create pens that ask your customers to call a certain phone number in return for some spending credit to buy your products?
For your campaign to go viral, you need to be smart about how you do your marketing, and not be afraid to experiment. It's amazing how a few simple ideas can change the strength and impact of your marketing endeavors. Use these 3 ways along with your own creativity and get your campaigns to go viral today.
Reach out to Good Things to explore how we can help with your promotional product needs.