This week is National Recycling Week and this year's theme is 'Waste is not waste until it's wasted'. Here at Good Things, we see value in this year's theme. Over the last couple of years, we have seen a steady increase of enquiries into eco-friendly merchandise products. This can include (but is not limited to) products that are made out of recyclable materials or can be recycled once the user no longer wants the product. Our goal is to ensure all of our eco-friendly products have a sustainable life cycle, from beginning to end. That end part of the cycle is what resonates with this year's National Recycling Week theme.
Promotional products and merchandise is something everyone has in their household. Whether its a branded cap or a branded bottle opener. However, well-used products means wear-and-tear can occur. As much as we hate saying goodbye to our loved pieces of merch, sometimes they're just not usable anymore, which means it's time to dispose of them. This is when a piece of merch can potentially turn into 'waste'. With this in mind, that is why choosing eco-friendly merchandise products means disposing of your product at the end of it's life cycle won't be such a bad thing — as it won't be wasted, but recycled. 
What eco-friendly products should I look at getting?
We've got a great eco-friendly merchandise range with a wide variety of products to choose from. But some of our stand-out and popular products definitely include;
Nothing better than a ball point pen that writes so smoothly, it becomes your favourite pen. Plus, when the ink runs out and it's time to dispose of the pen, you can simply recycle it instead!
Sounds simple, but this eco pen has a recycled paper barrel and recyclable plastic tip. Again, a great pen option that reduces your environmental impact. 
Tote bags are always a useable. Especially since the ban on single-use plastic bags at major supermarkets in Australia, everyone has a tote bag handy these days. Calico is a great eco-friendly material to go with. It's durable and long lasting, meaning the bag will last you a life-time. 
Glass is another great eco-friendly merchandise material as it is completely recyclable — it can be given another life, by being melted downed and set again! We've got two great options for glass coffee cups; the Vienna Coffee Cup with a Cork Band definitely fits those earthy tones and in-door plant vibes. Alternatively, we have the Vienna Coffee Cup with a Silicone Band, this option is better for those who use their coffee cup daily and clean it often as silicone washes very easily.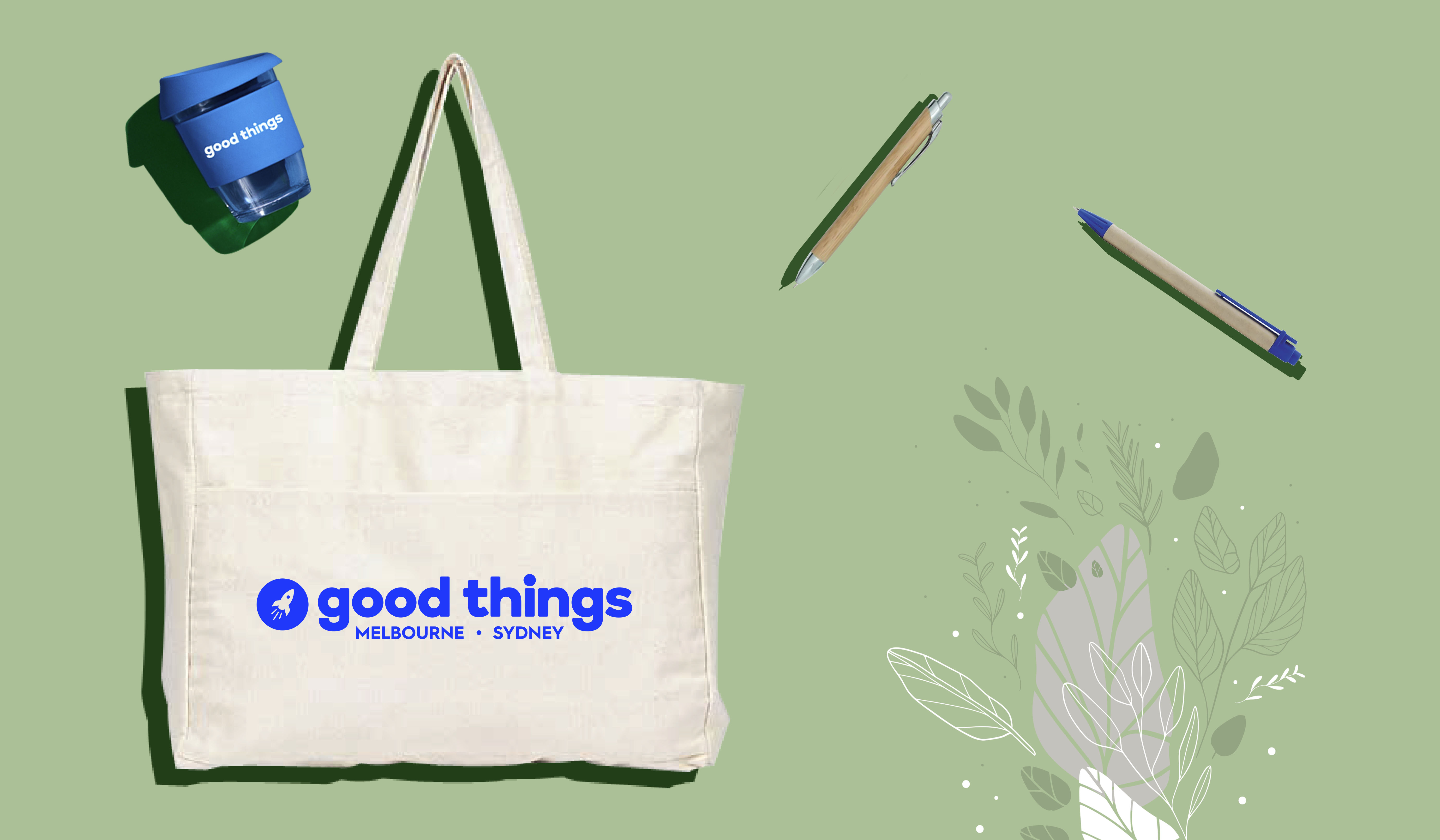 Why are eco-friendly merchandise products a 'must-have'?
Eco-friendly merchandise products have gone from a 'nice-to-have', 'added bonus', 'wow factor' to, it's a 'must-have' and if you're not using eco-friendly products then you're stuck in the past. This sustainability movement over the last 5 – 10 years has changed the course of consumer demand. Because of this, eco-friendly products have become more available to us here at Good Things and we've been able to make it more affordable for you.
What else can I do for National Recycling Week?
Planet Ark is the organisation that supports National Recycling Week every year in Australia. Planet Ark has a number of resources that explain where you can recycle different materials — from textiles, to furniture, to left-over paint! 
One of the easiest and best ways to get your brand or workplace involved in National Recycling Week is ensuring that your office space has a range of disposal bins; including general waste, green waste, mixed recycling, cardboard and glass bins. You don't necessarily have to have all of them, but a couple of a great way to start. Additionally, you can search on Planet Ark where you can responsibly dispose of products that can't go into normal council bins. Just another easy and simple way to contribute to National Recycling Week.
If you're now feeling inspired to get yourself some eco-friendly merchandise, then get in touch with our team!