Branded promotional products aren't just a way to advertise your brand. They're also a means to creating an amazing customer experience that wows.
Did you know?
If branded promotional products are so key to building a brand, it's important to never underestimate their value in building your brand for the long term, and innovate to wow your customers.
In this post, we're going to show you how 5 brands do an awesome job at WOW-ing their customers with branded promotional products. You'll start to see branded promotional merchandise with a fresh pair of eyes! Let's get right into it.
NOTE: Want your own promotional products to wow your customers and turn prospects into life long, paying customers? Good Things can help.
Promotional Merchandise For Brand 1: Y + Yoga Centre
Y+ is a yoga studio in Shanghai, China with a range of interesting branded promotional merchandise to wow their customers. One that truly piques your interest is their flexible drinking straws.
Have a look below: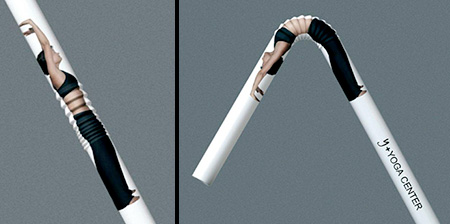 As you can see, a straw like that will capture the interest of anyone who might be interested in yoga. These branded straws were given out to customers of a fruit juice bar, to promote Y+ among health freaks.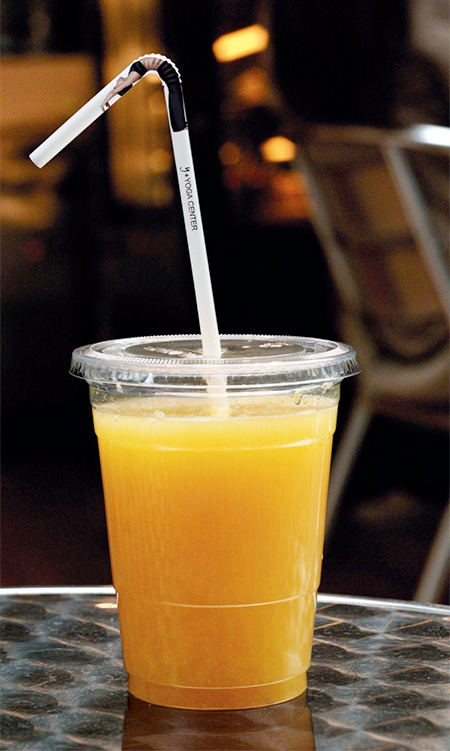 A very clever way to promote the brand to the right audience, in an interesting and unique way. The best part is that the straw creates a good customer experience, simply by providing some utility, and allowing consumers to have a bit of fun with it. Quite often the simplest branded promotional products can really be the best and most effective".
Promotional Merchandise For Brand 2: AirBnB:
As you may know AirBnB is all about creating a fantastic customer experience for their users and hosts. They do this by being customer centric and listening to the needs of their community. By truly understanding what's of value to their consumers, they're able to create branded products that WOW their users.
AirBnB offers their branded products through their online branded promotional merchandise store called AirBnB Goods. Here's an example of one of their hosts reaching out directly to them, giving an idea for a branded promotional product they can provide: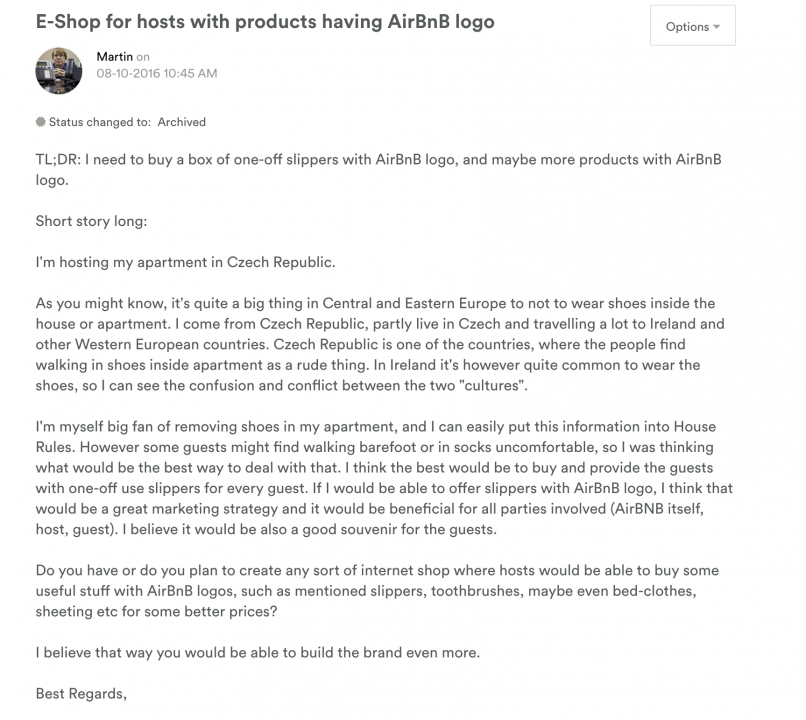 If you read carefully, this host gives the idea for making slippers with the AirBnB logo on it, so hosts can provide it to guests that live with them. This makes a great case for a branded promotional product, as it helps guests walk comfortably around a hosts house, particularly when walking barefoot or with socks can be rude, providing a comforting customer experience. A winning marketing strategy, too, as everyone loves to carry a free pair of slippers with them!
Using this approach to listen to your users, and creating branded promotional products that your users will appreciate can be one of the smartest ways to wow your customers.
Promotional Merchandise For Brand 3: UberEATS
UberEATS partnered with McDonald's to deliver swag from their new 'McDelivery Collection'. Users receive this swag when ordering from McDonald's through the UberEATS app.
The reason why the swag makes a great customer experience is because it's perfect for the 'occasion' of having a picnic in a park. It includes a snuggle Big Mac Onesie, a picnic blanket, pillow cases and much more.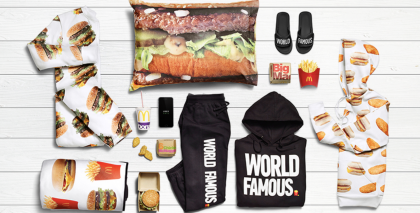 The great thing about their promotional strategy is that McDonald's adds an element of surprise to their branded promotional merchandise. They always encourage users to see if they received a 'lucky item' in their happy meal bag, so it adds to the overall customer experience if they actually get something from the limited McDelivery Collection.
Promotional Merchandise For Brand 4: Brown Brothers Wines
One of the brands Good Things worked with on an interesting promotional merchandise campaign was Brown Brothers Wines. Brown Bros truly understand how to provide an experience that wow by providing quirky and unique goods; premium chopping boards, and coasters in the shape of wood pallets.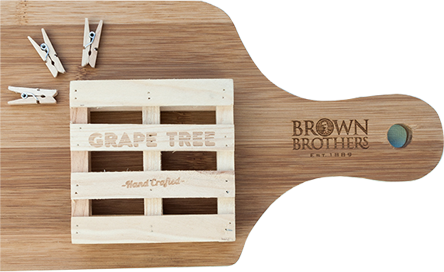 What's special about this campaign is that consumers get the whole 'wine experience' of having a chopping board for cheese and crackers, along with coasters for their wine glasses that they would be proud to showcase in their living room.
Promotional Merchandise For Brand 5: Andertoons
Andertoons is a cartoon production studio that creates innovative cartoons for media publications and also runs cartooning classes. The founder, Mark Anderson, gave out an interesting branded gift to celebrate his success with his customers. He created a customized lego figure of himself creating cartoons at his desk, and distributed it to all of his customers. Check it out below: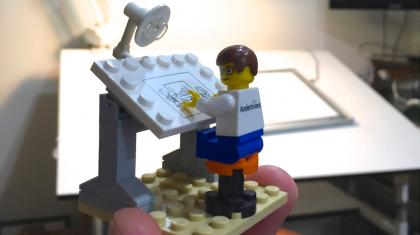 The key point here is that by being different and giving branded promotional products that are unique, you can stand out from some of the other brands that give away the 'usual' mugs, pens and lanyards.
Wrapping it up
Learn from the experience from some of the brands above, and build a memorable branded promotional product strategy that resonates with your audience. Use some of these tips to come up with ideas for branded products that wow your customers:
Be Unique: The best branded promotional products are unique. Put your own creative spin to your branded promotional products, and your users will love you for it.

Be Customer Focused: Don't just give away branded promotional products because you want your customers to think about you. Give them so that they see you as a company that cares about them. You can only show you care by understanding their needs, and then finding creative ways to meet them.

Find Ways To Connect With Your Customers, Emotionally: Think of branded promotional products as a way to touch the hearts of your customers, and not just a cost effective way to do marketing. Make it fun for your customers to use your branded promotional products by engaging with them, and not just having it as an accessory they use.
NOTE: Want your own promotional products to wow your customers and turn prospects in to life long, paying customers? Good Things can help.