If you want to build strong relationships with your customers and attract new ones, consider gifting memorable and unique promotional products. How customers think of you and your brand comes down to your ability to make a positive impression on them. 
There has been a lot of research into the psychology of customer behaviour, and companies are utilising this knowledge to implement the right strategies for their marketing campaigns. 
Take Reciprocity. A BYU sociologist, Phillip Kunz, sent Christmas cards to 600 strangers. He received 200 Christmas cards back. This theory suggests that giving something of value will often reap positive benefits, such as receiving something in return. Giving your customers high-value, useful, quality promotional products can help increase advocacy. 
Then there's Exposure, that holds 'the more we are exposed to something, the more we like it'. Researchers Kunst and Williams showed participants of their study a picture of an octagon for one millisecond only. After the fact, even though the participants could not exactly remember seeing the octagon, they showed an increased affinity for the eight-sided shape. Can this be true for brand exposure? We think so! 
Here at Good Things, we've rounded up five unique promotional products that will get your brand noticed (and remembered), in a good way.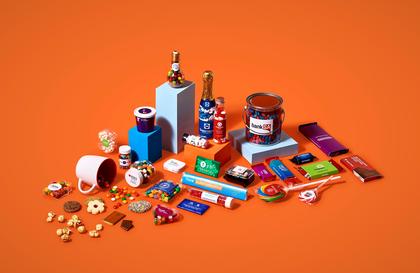 A favourite among many of our clients, customised candy always wins the hearts of customers. We all suffer from that dreaded mid-afternoon slump, and there is nothing like a sugar hit to get us through the day. You can customise both the packaging, and the lollies in your corporate colours. Picture the jar on your customer's desk, where they can snack on it throughout the day! What a way to make them happy. Check out some of our bestsellers here, here and here.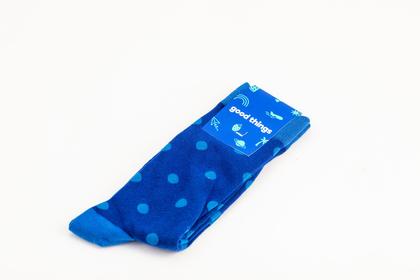 We all need socks, and wear them regularly. This makes them a unique promotional product that your customers will find useful in the longer term. Why not custom design a pair of socks in your company's colours? Our socks are made from 70% bamboo and 30% combed cotton, making it eco friendly too. It ticks all the boxes! Shop here.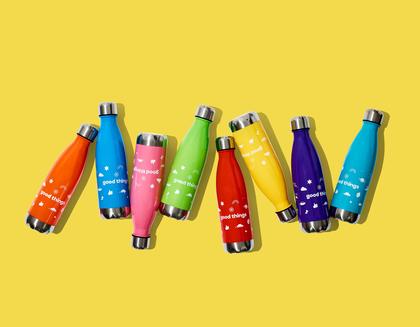 Drinking enough water is very important, which explains why customised drinkware is one of the most popular promotional products of all time. This sleek and stylish rubber water bottle comes in an array of bright colours, and will definitely be used by your customers daily. At Good Things, we prefer eco-options, and choose reusable water bottles over single-use plastic bottles everyday.
4. Compostable Mailer Bag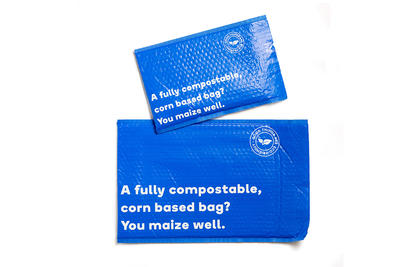 Every touchpoint your customer interacts with says something about your brand. If you are going to package a gift to mail out, opt for an environmentally friendly mailer bag. With more customers choosing eco-friendly options, it will not only allow them to resonate with your brand, but will show that you are committed to making a positive impact for the greater good. Our compostable mailer bags are made of corn, and come with a cheeky pun. Have a look here.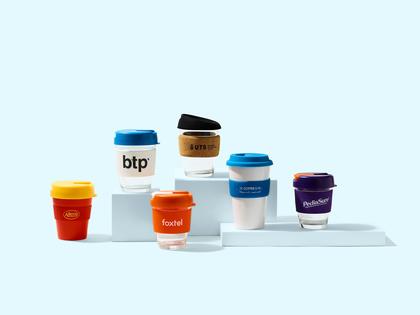 This one speaks for itself – Australians are famous globally for our love of coffee. Did you know that as a nation, we drink over 50,000 cups of coffee every half hour, and that the amount of disposable coffee cups thrown out every year could fill 20,000 trams? We are big advocates for reusable coffee cups. Customise a coffee cup with your brand's logo and colours, and gift this valuable and useful promotional product to your customers. Our pick this month.