It's July and you know what that means? The Tour de France has come around once again — one of the most prestigious sporting events of the year. Many travel from far and wide to the little roads of France to watch the world's best cyclists fly past. What many of us don't see is that there is actually an entire 'pre-show' before the thrill of the ride. 
Known as 'la Caravane pulicitaire' (the English translation of 'the publicity caravan') this festive and exciting opening to the cycling event has been operating since 1930. The advertising caravan parade runs for 2 hours before the riders pass by, with brand staff throwing goods and gifts to the crowds. Diving left, right and centre, collecting your favourite and most wanted promo merch is a dangerous sport. With up to 30 brands driving by thousands of roadside fans, you'll have plenty of opportunities to get something good; like branded caps, tote bags, food snacks, keyrings and more hats! It's also prime time for brands to expose their business to their consumers.
With the growing awareness around sustainability, Tour de France recently announced that the promotional products provided by brands at the caravan parade must be recyclable or made from recycled materials, including the packaging for food snacks. The sporting organisation has also taken into consideration that some foods could be dangerous to wildlife and conservation areas along the Tour track. Because of this, the distribution of some gifts have been banned in certain areas of the course.
View this post on Instagram
When the 'la Caravane pulicitaire' has to drive 3,328km, through hundreds of towns and see thousands of people, it means that participating businesses have to be pretty savvy with their choices and budget given the quantity of merch. Nonetheless many have been very creative in their choices and never miss the mark when it comes to the excitement of it all, even down to the delivery of it by the brand staff.
In saying that, Iain Treloar from Cycling Tips, wrote about his experience back in 2019 at the Tour de France and the iconic merch caravans in his blog, The Things Thrown At Me By The Tour de France Caravan.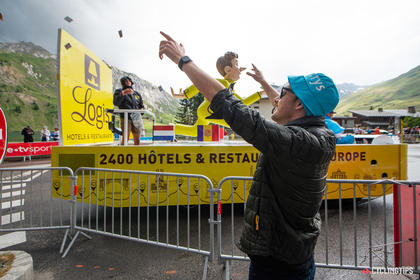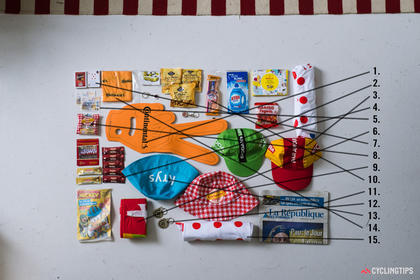 Treloar reminisced about the scuffs and shoves he went through to collect some of his prized possessions from Tour de France 2019. Above is his whole collection, which you can read about on his full blog. But we're just going to outline our favourites, from an expert merchandising perspective. 
What promotional products were the favourites?
Promotional Pen: Number 10, BIC Intensity Pen
Just like we said in our recent buying guide for pens — don't underestimate the power of a pen. Particularly a good one! Treloar rated this Tour de France promo gift an 8/10, one of the highest-ranked goods out of his collection. As we said, a pen is more than just a writing utensil, it's a piece of memorabilia too. In his case, the BIC Intensity pen was definitely one.
Promotional Apparel: Number 15, E. Leclerc polka dot t-shirts
Can you think of a better way to show off your Tour de France merch caravan wins than wearing your very own merch shirt? It may not be the most fashionable fashion label polo shirt but Treloar was pretty stoked to receive it, rating this promo gift a 7/10. 
Promotional Tote Bag: Number 6, Vittel tote
Here at Good Things, we love a good tote bag and so does Treloar! Being Melburians we take our totes everywhere we go. So getting a tote bag at an event like Tour de France is a big plus in our books. Although, according to Treloar, his Vittel tote wasn't the best of quality but still very useable when he came back home. He rated this promo gift a 5/10. 
In summary…
We found out about the Tour de France 'la Caravane pulicitaire' from our Co-founder, Jeremy, as he too experienced the chaotic fun of it all when he visited the Tour de France in 2018. So we asked ourselves — if we have the privilege of getting our very own Tour de France Good Things caravan, what would we throw to the crowds? Well, if you're standing in a crowd expecting to get handfuls of merch, you'll need a place to keep them all. So we'd give out the good 'ol  eco-friendly and reusable tote bag — with a twist. Perhaps a playful message on the bag along the lines of  "Très bons produits de marque" or in English "Very good brandable products". Showing everyone at the Tour de France who they can trust with their promotional marketing and merchandise needs — simple, Good Things.