When you get in contact with one our of Good Things account managers, they'll ask you what promotional product items you're interested in. As they are merchandise experts, they'll start speaking in merch lingo, which some of us might not understand… So we're here to help explain what it all means. Some terms you may come across in the promotional products world is custom merchandise and/or stock merchandise. Both are excellent options to help drive brand awareness but investing into custom merchandise can get you better bang for your buck and separate you from the rest! 
Let's start with a question — are you sick of the same old promotional junk? The stock standard tote bag, notebook, pen or drink bottle? The stuff you get when you go to an event and just end up putting at the back of the cupboard when you get home. We've all seen them, and likely, will continue to see them as they serve a purpose and fill the gap for brand visibility.  At Good Things, we recognise that our customers can become tired of the typical go-to merchandise, so our preference is to offer something a little more bespoke to keep our clients (and their customers) wow'd every time. 
The Good Things collaborative approach to merchandise.
Our approach at Good Things is different and unique — we have a collaborative approach to merch. We take the time to understand your brand and present merchandise ideas that speak to your customers. In a lot of ways, we are an extension of your marketing team. 
Good Things has strong connections to manufacturers and suppliers who work closely with us to identify on-trend and innovative products. This helps us (and your brand) stay ahead of trends in the marketing world. With our extensive experience and immense knowledge of how the market works, we curate unique, bang-on promotional merchandise solutions. For example, when Vegemite came to us for their next piece of iconic merchandise, we presented the custom made ugly Christmas sweater based on their merchandise objectives and brand personality. Vegemite lovers around the world rejoiced at the arrival of the Ugly Christmas Sweater. The perfect promotional product for Australia's favourite spread.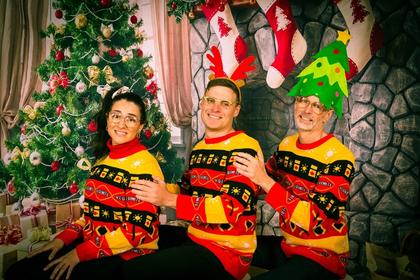 So what's the different between custom VS stock merchandise?
Stock merchandise
We already know that you don't want to see the same old promotional junk. However, sometimes you just need a quick turnaround time, this is where stock promotional products can help. Designs are free and usually have shorter lead times. Plus the minimum order quantities can be lower. However, the price per unit for stock products is much higher and designs cannot be fully customised outside of a logo design. Another issue is that the printable area is restricted to a much smaller space. While these are great merch options, this method does not have the benefits custom promotional products have. Some examples of custom merchandise solutions are promotional tote bags, promotional drink bottles and promotional notebooks.   
Custom merchandise 
With custom products you can still enjoy  free designs, you also have the flexibility to customise the design to suit your brand entirely. There are no restrictions on the size, branding, printing, and the choice of material. The best part? You get all of this at a much lower unit price! You also won't have to worry about supply issues, which can happen with stock products. If you can accommodate a longer lead time, it's best to opt for custom merchandise products for the merch activation. Some examples of our customer merchandise include the Coopers Cooler Bag, Coopers Deck Chair and the Redken Tangle Teaser.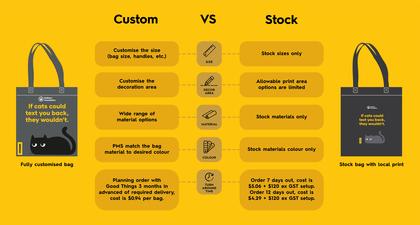 Summing Up
We've listed down everything you need to know about why custom products are a much better option. Whatever your objectives are, Good Things is here to help and if you want to try something different, collaborate with us to create some custom promotional merchandise.