Promotional products can be a great way of advertising your business – giving a potential customer something for free will instantly warm them to your business, and the gift will serve as a reminder of your business afterward, too. Perhaps the most common example is the classic branded promotional pen.
What better way to get your contacts, prospects, and customers to keep your brand at the forefront of their minds than a branded pen that they'll use daily? Trusty ballpoint, colourful highlighters, or even elegantly engraved pens are a gift that anyone can easily make use of, and every time they write with it, your brand is exposed to them and others nearby.
However, while the concept of using branded promotional pens to advertise your business may seem pretty straightforward. The reality is that there's a wide range of factors you'll need to consider when selecting your ideal pen. Colours, styles, functions, quantities, and more can all make your choice that little bit harder.
So, how should you get started when choosing a branded promotional pen for your business? This guide will cover everything you need to know about advertising your business through the power of printed pens!
Why Should You Use Promotional Pens To Market Your Business?
Promotional pens are a great way to promote your business for various reasons. For starters, think about just how much exposure a pen that's used in everyday life will grant you. According to Ingli Sweden, the average promotional pen lasts about eight months, during which time it will be passed between an average of three to four different owners and be exposed over 3000 times!
Branded promotional pens can also come in various styles and feature all sorts of different functions, making them highly customisable to suit your business, sector, and clientele.
Moreover, they're highly practical, which means recipients are more likely to appreciate them and use them daily than other promotional products. This allows a printed pen to familiarise the pen's user (and others around them) with your brand.
Using branded promotional pens to market your business can offer many great benefits – the most important of which include the following.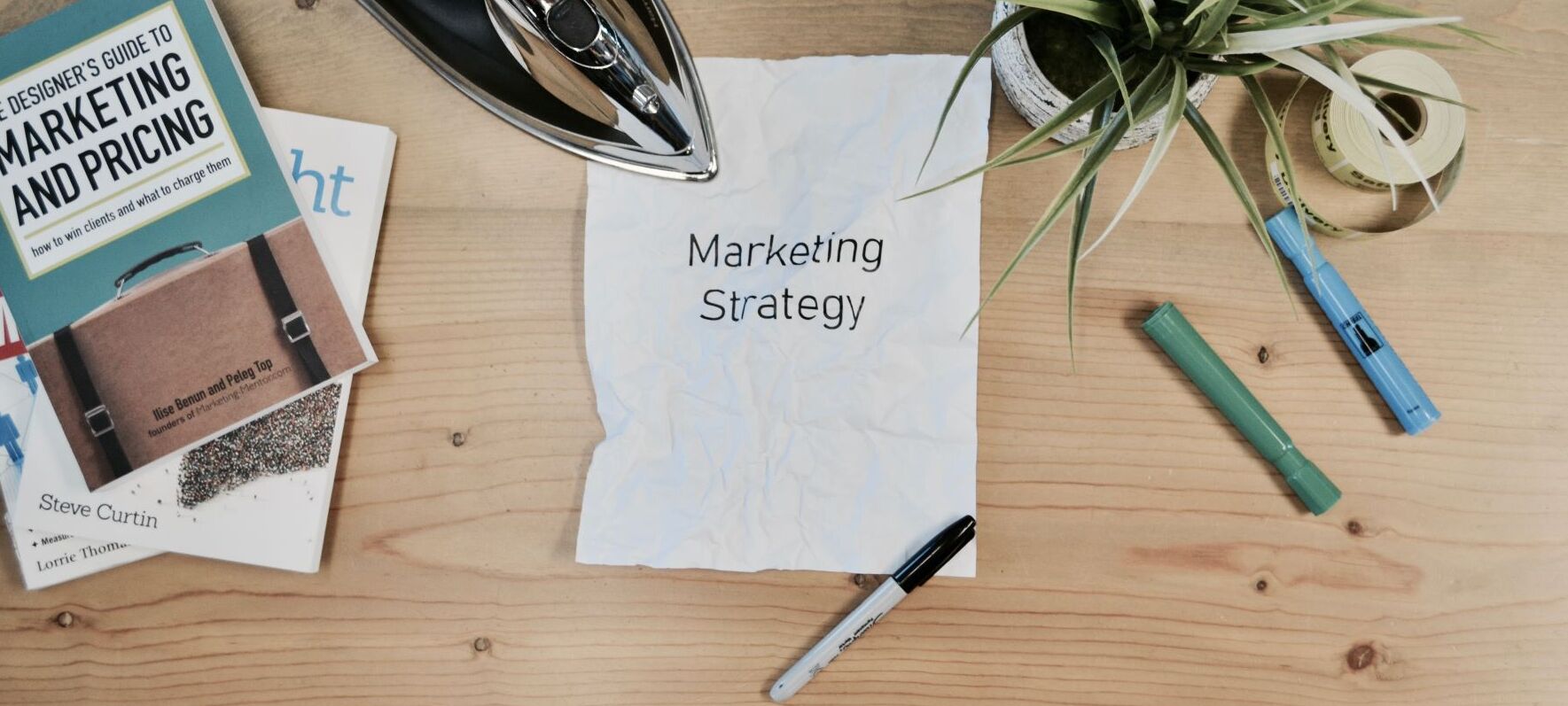 Promotional Pens Improve Customer Relationships
Gifting someone with a promotional pen, you can immediately warm them to your brand. It may seem like a small gesture, but it's often highly appreciated – you've given them something valuable and useful for free, after all!
According to the Promotional Products Association International (PPIA) in their 2021 Consumer Study, 94% of people enjoy receiving promotional products – and 9 out of 10 say that it makes an experience more memorable when they receive one. What's more, 3 out of 4 people say that receiving a promotional product from a brand they haven't used before would make them likely to switch brands.
This research shows just how powerful a branded promotional pen can be – it's a great way to start customer relationships on the right footing, making them remember your brand and perceive it more favourably than others.
Promotional Pens Are Highly Cost-Effective
The simplicity of a promotional pen means that compared to other promotional products and advertising methods, they're often much cheaper – especially when bought in bulk, which typically indicates an even more affordable cost per pen. With a high exposure rate, personalized pens are incredibly cost-effective for increasing brand awareness.
Let's say one pen costs $1. If that pen is seen by 1000 people across its lifespan, that means a cost per exposure of just a tenth of a cent!
Their small size also means that they're cheap and easy to ship, which is an essential factor considering the current state of worldwide freight and shipping. The COVID-19 pandemic has had a significant impact on the sector, increasing costs and delivery times – so the fact that pens are small and easy to deliver in bulk makes them ideal currently.
"They are easy to get, there are so many different styles, and shipping costs are minimal because they are so small," says Bryan Irby, sales manager at pen supplier I-Mark. "Right now, every supplier is feeling the pressure from freight problems. In this current shipping setting, people are going toward the products they know they can get and that their end users will use and appreciate."
Therefore, the size and simplicity of pens make them a reliable and cost-effective solution in any economic climate.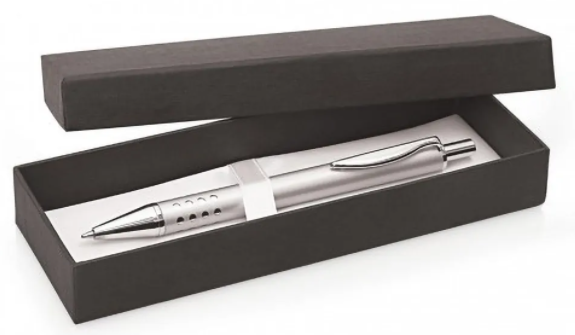 Promotional Pens Have A Long Life 
Think about how long a typical digital, print, or televised marketing campaign for your business might last. A few weeks? A couple of months? Now, compare that to the lifespan of a branded promotional pen. Pens can last for months and months depending on how much they're used – so they can effectively act as an effective long-term advertisement for your brand.
Not only is the original recipient of your branded promotional pen likely to use it for a long time, it's also likely that it may get passed on to new owners who will also use it for extended periods whilst exposing it to an entirely new group of people. This means your personalised pens can act as a long-term marketing investment lasting across several months (or even years!).
As such, promotional pens have a very, very long-term ROI and can keep conveying your brand message well after other promotional products or simple business cards might have been discarded.
According to Pam Baker, executive assistant at Hub Pen: "The message gets in front of an average of eight owners. Pens have become the new business card."
Promotional Pens Are One Of The Most Useful Promotional Products
Promotional products work best when people value them, and one of the core factors in that value is how useful the recipient views them to be. Pens are consistently ranked as some of the most useful promotional items out there, which means that recipients are more likely to value them highly compared to other products.
For example, Promo Gallery's study into Australia's attitudes to different promotional products found that branded promotional pens were seen as the second most helpful product. 24.6% of those surveyed said pens were the most useful promotional product – putting them just behind USB memory drives at 25.5%. Clearly, when it comes to promotional pens, Australia can't get enough!
Since custom printed pens are so valuable, they tend to be valued more highly by recipients than other promotional gifts. They'll also associate this value with your brand, with each use of the pen reinforcing their positive perceptions of your brand.
What Should You Consider When Buying Branded Promotional Pens?
Now that we've seen how valuable and practical promotional pens are as a marketing tool, you're probably raring to get in on the action yourself with custom printed pens for your business. However, it's not as simple as just sticking your company logo on a pen – there's a lot to think about if you want to get the most out of your branded pens and make them an effective marketing tool.
When deciding how to select custom promotional pens, there is a whole range of different factors to consider. Use the following checklist to ask yourself the crucial questions about your branded pens and choose the one that's right for your needs!
What Message Do You Want Your Promotional Pen To Convey?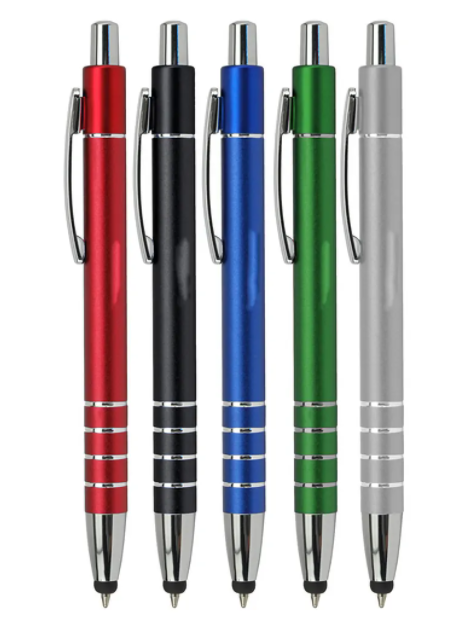 First off, think about what sort of message and impact you want your pen to convey. This message should reflect your business, the sector you work in, and the customers and prospects you want to win over with your pens. What exactly is your brand's persona? What do customers expect from you? How can you reflect the mood of your industry or sector?
This will all have a significant impact on what your ideal promotional pen might look like. For instance, a creative, artistic brand might get the best results from colourful or uniquely-designed pens that reflect their creativity. However, more serious sectors like law or finance might do better with something more elegant and sophisticated, like branded metal pens.
As well as thinking about the pen's message in a figurative sense, you should think about the literal message printed on the pen, too. What details are the most important to include? How will you effectively and concisely convey who your business is and what it does?
Remember, your promotional pen might change hands multiple times – so the second, third, or even fourth owner needs to be able to tell what your brand offers just from your pen since they won't have the same context as the original recipient.
The main things you should look to include on your pen include:
Your business name and logo
A simple strapline explaining what you do
Website or contact details (phone, email, address etc.)
Your main services
Try not to crowd the pen too much with extra details – it might end up looking too cluttered, drawing attention away from the key information you want people who see the pen to notice.
How Will Your Personalisation Be Printed On The Pen?
Once you've decided what you want to print on your branded promotional pen, you should think about how you want it to be printed there. There are many different types of printing for personalised pens, each with its own advantages. Check out the table below to find out more about your options!
| | | |
| --- | --- | --- |
| Printing Method | How It Works | What Is It Good For? |
| Pad printing  | A silicone pad applies your design onto the pen. | Detailed printing on round or uneven surfaces. Great for smaller artwork as it keeps a high level of detail! |
| Screen printing  | A stencil is made on a fine mesh screen, then ink or paint is pushed through to print the design. | Better for larger designs with fewer fine details. Also good for printing in high volumes. |
| Digital printing | Your design is printed directly onto the pen using a digital printer. | Allows you to print in multiple colours; digital printing can also lead to a more vivid design. |
| Foil printing | Pigmented foil is printed onto your pen and heated to recreate your design. | Gives a shiny, metallic look that looks great on pens with metallic components. |
| Laser engraving | Your design is etched by a laser into the surface of the pen. | Looks stylish and elegant, and it's very hard-wearing – unlike inks or paints, an engraving can't be rubbed off over time! |
What Type Of Pen Will You Use? 
There are all sorts of different pens that you could use for your branded promotional pens, so it's essential to consider all the other options. Try to pick a type of pen that suits your target audience both in terms of style and function. In addition, think about your company budget and the number of pens you might need.
| | | |
| --- | --- | --- |
| Pen Type | Advantages | Disadvantages |
| Gel pen | Smooth writing and colourful, vivid ink – great for creatives. | Might feel too childish or frivolous for more serious business environments. |
| Ballpoint | A dependable classic – uses an oil-based ink that lasts a long time, and it's cheap and easy to produce in high volumes. | Since they're so common, ballpoints might feel cheaper or less eye-catching than other options. |
| Felt-tips and markers | These pens are generally thicker so there's more surface area to apply your design; they also have a different function to most pens so could help differentiate your pen from competitors. | Unlikely to be used in serious environments, and not as easy to use for everyday note-writing etc. |
| Rollerball | Smoother writing than ballpoint and gives a finer writing line. The water-based ink means there's also less risk of leaks and blobs. | Water-based ink doesn't last as long, so this might limit the pen's long-term exposure potential. |
| Fountain pen | A classy, elegant, and high-quality pen that recipients will value very highly – which makes it a great way to make customers feel special! | More expensive to produce in bulk than other options. |
| Highlighter | Ideal for students or people who work in office environments; come in a range of colours; tend to have a larger surface area for your design. | Might not last as long as other pens, and can also appear cheaper or less serious. |
Remember that as well as pens; you have the option of using other writing instruments too. Promotional pencils, crayons, and other writing equipment could also be good options if they fit your sector and brand!
As well as the type of pen you'll use, think about other aspects of its design as well. For example, you could add a grip to improve the writing experience, but if you have a large design this could take away from the printing space.
Material is another crucial factor. Plastic is the cheapest option, but it might look relatively inexpensive. Metal is more elegant and attractive but also comes at a higher cost. There are also eco-friendly options that can help reinforce your brand's green credentials, but these might have more limited styles since they use less common materials.
Another component to consider is whether you'll use a push mechanism, twist mechanism, or cap on your pen. These will all give a different look and feel to your pen, so think carefully when choosing one!
Finally, consider the colour of the ink and the pen itself. Blue and black are the most common options for everyday writing, but other colours could also work depending on your target audience.
Will Your Pen Have Other Functions?
Sometimes, printed promotional pens can be more than just pens. Adding extra functions to your pen can add some extra fun or usefulness, making it more valuable to the recipient and helping it stand out from your rivals' pens.
Try to think about functions that would be helpful or appealing to your target audience. Perhaps your company works in the construction industry – so maybe your customers would appreciate a pen with an in-built spirit level. Or, if you work in technology, then your tech-savvy customers might like a pen that can double as a stylus for tablets and phones.
Consider 2-in-1 pens as well – maybe you could offer a ballpoint that also has a highlighter on the other end, or a pen that has black ink on one end and red on the other to help teachers with their marking.
Adding appropriate functions for your brand, industry, and audience is a great way to help your promotional pen stand out from competitors' pens by adding extra value and utility to it. This means that the recipients of your pen will be more likely to use it than other pens, increasing the number of times it will be exposed to the user and people around them.
What Colour Will Your Pen Be?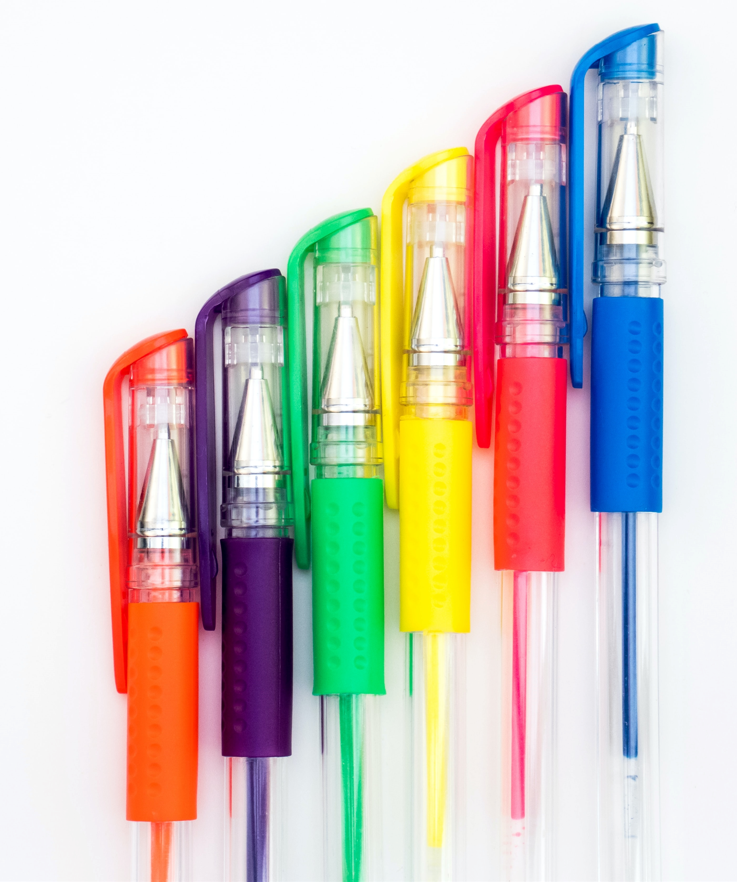 Colour is perhaps one of the most significant factors to consider when choosing a branded promotional pen. Colours can have a huge impact on how your pen is perceived thanks to the pen's actual appearance (such as the contrast between the background colour and your logo) and the associations and emotions that different colours may convey.
The colour you choose needs to work well with your brand as a whole. Strong associations with a particular colour combination will help fix your brand in people's minds – so if you already have specific colour schemes that you use in other marketing and branding material, those are a good starting point for your pen.
Black and white are classic options that are highly dependable if you want to keep things simple. White can be used with designs that use pretty much any darker colours, while with black pens, you can convert your logo to a white outline to help it stand out clearly.
For other colour combinations, use this table to determine what associations different colours can have and which other colours they might work well with.
| | | | |
| --- | --- | --- | --- |
| Colour | Associations | Combinations for contrast/visibility | Combinations for complimentary/analogous colour schemes |
| White | Purity, honesty, simplicity, cleanliness | Black, dark shades | Lighter shades |
| Black | Stylish, elegance, authority, prestige, formality | White, lighter shades | Darker shades |
| Blue | Calm, peaceful, productivity, balance, trust | Orange | Purples or greens |
| Brown | Nature, earth, solidity, endurance, dependable | Darker blues | Yellows, oranges, or reds |
| Green | Nature, refreshing, calming, exotic | Red | Blues or yellows |
| Yellow | Attention, warmth, happiness, active | Purple | Oranges or greens |
| Red | Passion, excitement, romance, energy, strength | Green | Purples or oranges |
| Orange | Warmth, energy, stimulation, confidence | Blue | Reds and yellows |
| Pink | Romance, compassion, femininity, soft, warm, sweet | Light blues and turquoise | Lighter purples, lighter reds, or lighter oranges |
| Purple | Regality, prestige, serious, sophisticated, luxury | Yellow | Blues or reds |
These are far from the only colour combinations that work together – try looking at different complimentary colour wheels for some inspiration!
Another vital factor to consider when it comes to colour is that different cultures may have various associations with different colours. As such, if you work within multiple other regions with distinct cultural differences, make sure that the pens you use in each location match local colour associations to avoid giving the wrong impression with your promotional pen.
How Many Promotional Pens Will You Need?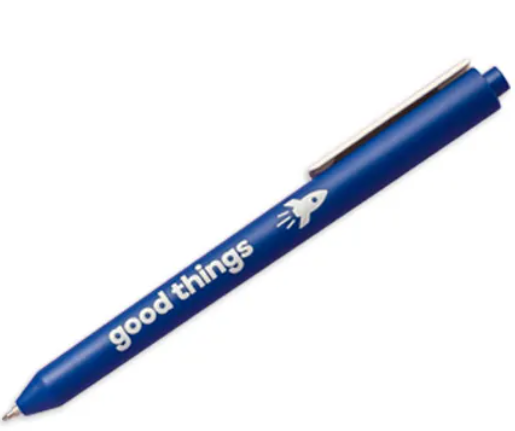 Quantity is another consideration you'll need to make when choosing your promotional pens. The number of pens you need will often be the deciding factor in how you use the budget you've allocated to branded custom pens. For example, will you opt for a higher volume of less expensive pens to give to your overall target market, or use a more limited quantity of high-quality pens to give to selected high-value contacts?
The answer to this will primarily rely on your industry and the intended recipients of your pens. For example, a grocery store giving pens to every customer would be better off giving away cheaper pens. But a high-flying law firm might do better by giving away a high-quality fountain pen to important clients and contacts (who might turn their nose up at a simple ballpoint!).
A good rule to follow in terms of quantity is to ensure you have enough pens to give away at every meeting. This could include daily interactions with customers, a significant event or trade show where you'll meet many new people, or important business meetings where a promotional pen can act as a great ice-breaker.
If possible, it's best to order your pens in bulk. High volume orders will usually offer a cheaper price-per-pen than making several smaller orders. Therefore, buying a quarterly or yearly supply can offer the best value for money.
However, if you're just starting to use branded custom pens, then you might not know precisely how many you'll need. In this case, take the opportunity to experiment – buy smaller quantities of different styles of pen so that you can gauge the reaction to other options at the same time as working out how many you're likely to need in a given timeframe.
You should also remember that you don't have to stick to one type of pen – you can order different quantities of different options to use in various scenarios. You could make a bulk order of cheap pens for everyday interactions and reserve some of your budgets for a smaller quantity of high-quality pens to give to significant suppliers or contractors.
Allocate Plenty Of Time To Your Promotional Pen Strategy
Finally, remember to give the proper amount of time and thought to your promotional pen strategy! At the end of the day, it's a marketing campaign just like any other, so you need to take it seriously and spend plenty of time planning and perfecting your promotional pen strategy.
Make sure you give yourself enough time to examine your different options, design an effective print for your branded pens, and test out different styles with customers. Most importantly, make sure you give yourself plenty of time to procure them.
If you leave ordering your pens to the last minute, you'll face several disadvantages. You'll face higher delivery fees for express shipping; you won't have as many options available since some pens take longer to produce than others; and you're more likely to make costly mistakes (plus, you'll have less time to correct them).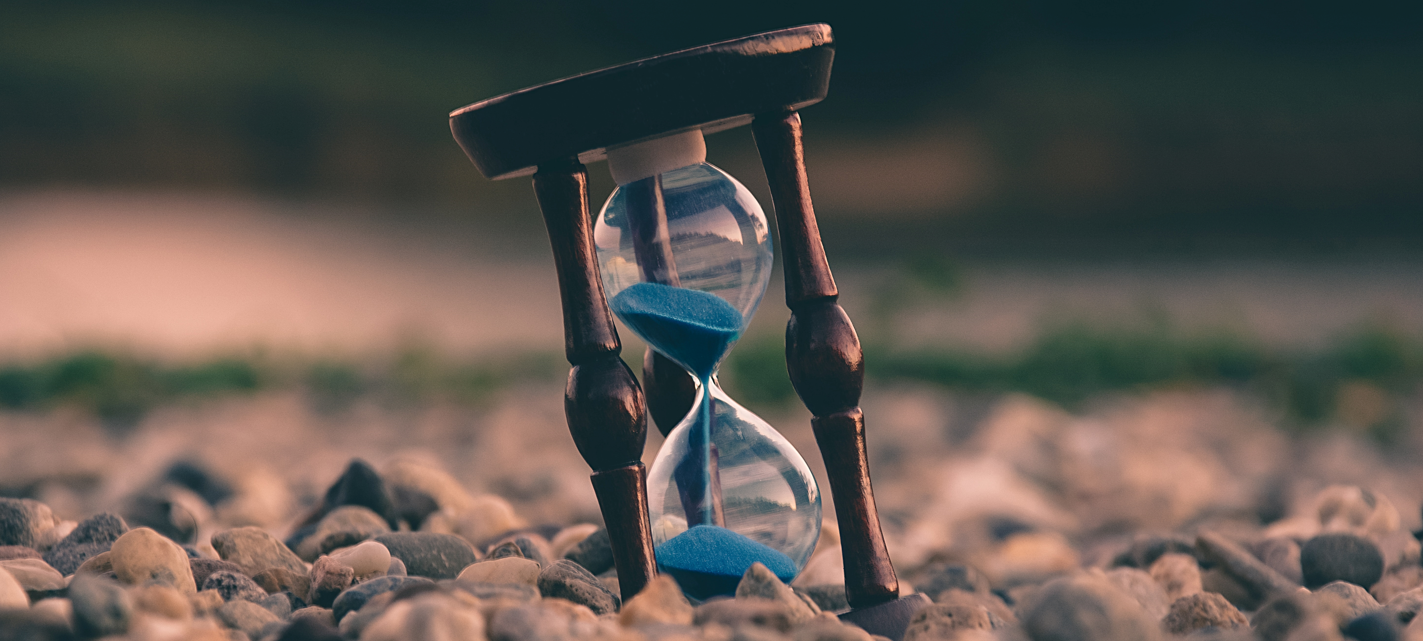 Conclusion: Picking The Perfect Promotional Pen
Branded promotional pens are an excellent tool for marketing your business – they can help make potential customers look at your brand more favourably. At the same time it offers substantial long-term exposure to hundreds or even thousands of different people. As such, they should be treated as seriously as any other marketing campaign: picking a pen is an important choice!
The starting point for any promotional pen strategy should be to consider who you're giving the pen to and what message you want the pen to convey – both in terms of appearance and the actual message you print on it. Colour, shape, material, function, and quality are all critical factors in how your pen will be perceived, so make sure you make the right choices to make the right impact.
Using this guide, you should be able to narrow down your options to the perfect promotional pens for your needs and audience. You now have all the information and advice you need to find the perfect pen for your business – and where better to start your search than with Good Things' enormous range of creative, customisable promotional pens?