It's almost that time of year again, when the shelves are filled with tinsel and Christmas songs replay in your head wherever you go. Which is why this year, we've put a spin on the iconic Christmas classic '12 Days of Christmas', to inspire you with your End-of-Year employee gifting. 
'Tis the season to spread joy and appreciation among your hardworking employees, and what better way to do it than with the spirit of giving branded SWAG (Stuff We All Get). As the year draws to a close, it's the perfect time to show your gratitude to your dedicated team members.
Just imagine… the Christmas classic reimagined for employee gifts…
'On the twelfth day of Christmas, my boss gave to me;
One Picnic Blanket, Two glasses in a duo, Three socks in a trio, Four pieces to a Cheeseboard Set, Five pieces of a Flask Set, Six Cooler Bags for my six-pack, Seven Essential Back-to-Work items, Eight Bluetooth speakers, Nine pieces to a Cricket Set, Ten Beachy bits, Eleven Soccer Balls and Twelve Skittle Throws.'
Don't worry, we'll work within your budget to curate the perfect End-of-Year employee swag pack.
12 products you can use for End-of-Year gifts
1. Picnic Blanket
One picnic blanket is the perfect amount. You could gift a picnic blanket to your employees either by itself, or you could add it to a bundle or hamper, to set the mood and make it more of a gifted experience. Encourage your employees to enjoy the outdoors and sunshine during the New Year break — what better way than gifting them the means to do so? 
Some of our favourite picnic blankets we offer for End-of-Year gifting are;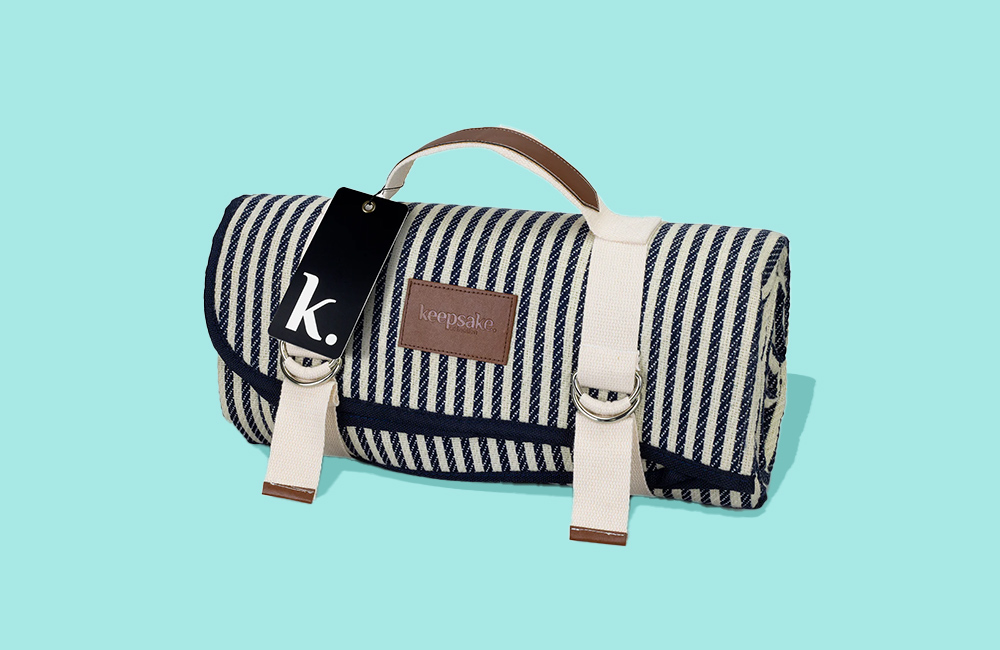 2. Duo of Glasses
Two glasses to go with your picnic blanket bundle! It's starting to looking like a ripper Summer picnic with all these good things being gifted by your company as End-of-Year gifts.

We've got some great options when it comes to couple glasses. Trending glass styles like Ribbed champagne glasses, we even have some shatterproof glass. Otherwise, we've got some classic Stemless Twin Glass Packs to suit anyone's style.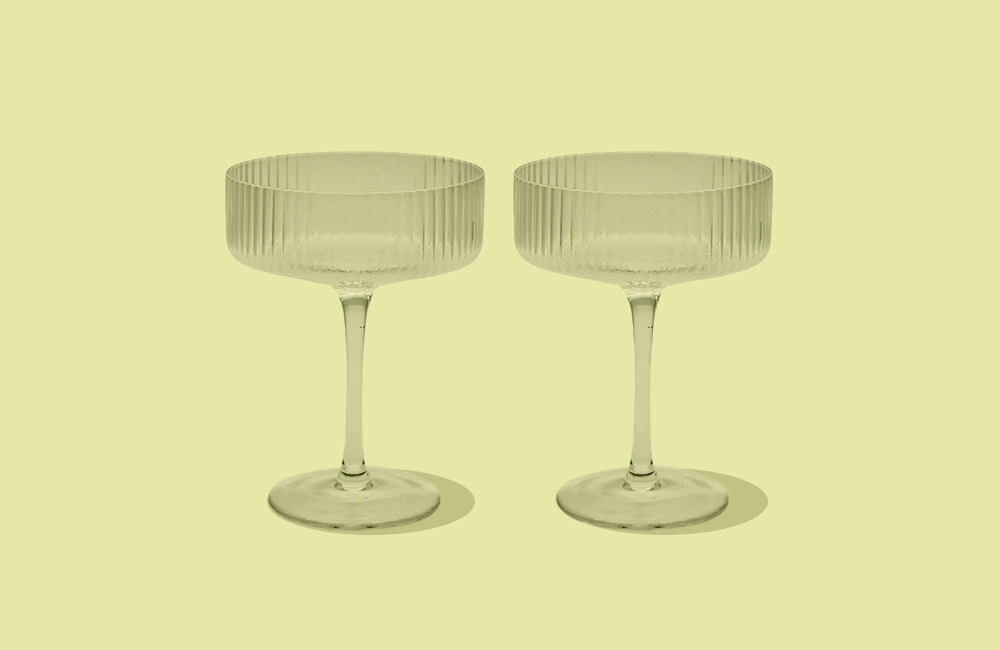 3. Trio of Socks
Socks in your Christmas stockings? Gifting socks for Christmas is an all-time favourite. Some may think it's boring, but when it comes to socks — you can never have enough! Happy Socks are perfectionists when it comes to creating fun Christmas sock packs. So make your own version of branded socks in a trio pack for your employees as an End-of-Year gift.

The best part about gifting a trio of socks, is getting creative with the packaging. There are some great ideas out there, from using 'beer' cans as the packaging to 'camera' boxes and more.
We've got an excellent range of socks that we're sure your employees will enjoy wearing both at work and at home;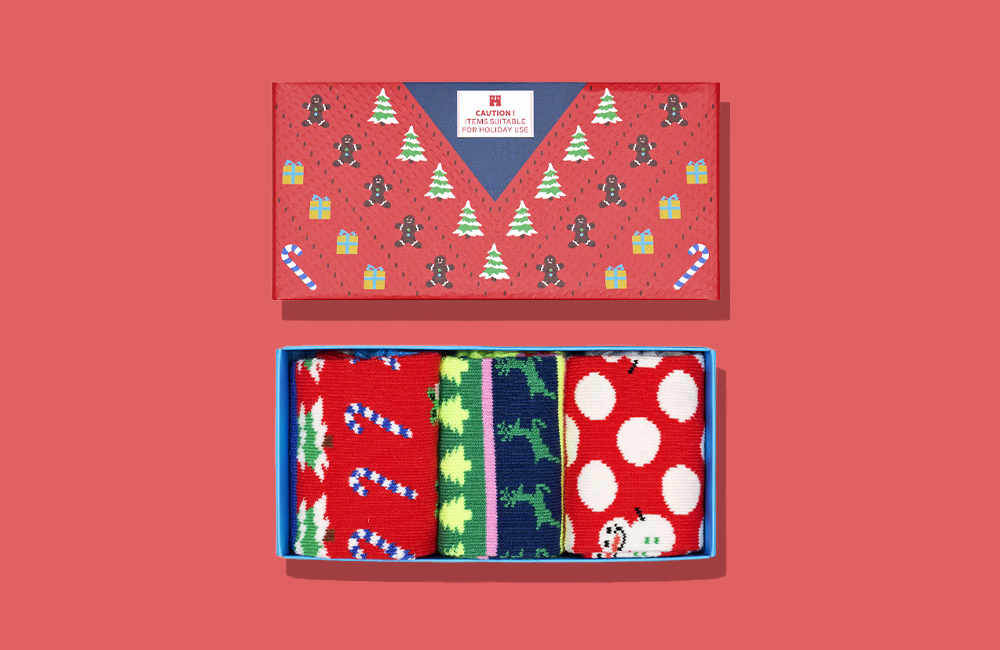 4. Cheeseboard & Knives Set (4 piece set)
Another item to add to that ideal picnic bundle is a cheese board set with 3 cheese knives included. There's a number of different styles with these 4 piece sets; some are swivel boards where the knives are placed inside the board, others come in premium packaging accompanying the cheese board. With all these options available, we recommend thinking about the product's end use — how will your employees use the cheeseboard? If you're hoping for them to take it on picnics, then the swivel set is easy to pack up. If you want them to enjoy a premium cheese board just for home, then the premium packaging options would be the ones we recommend.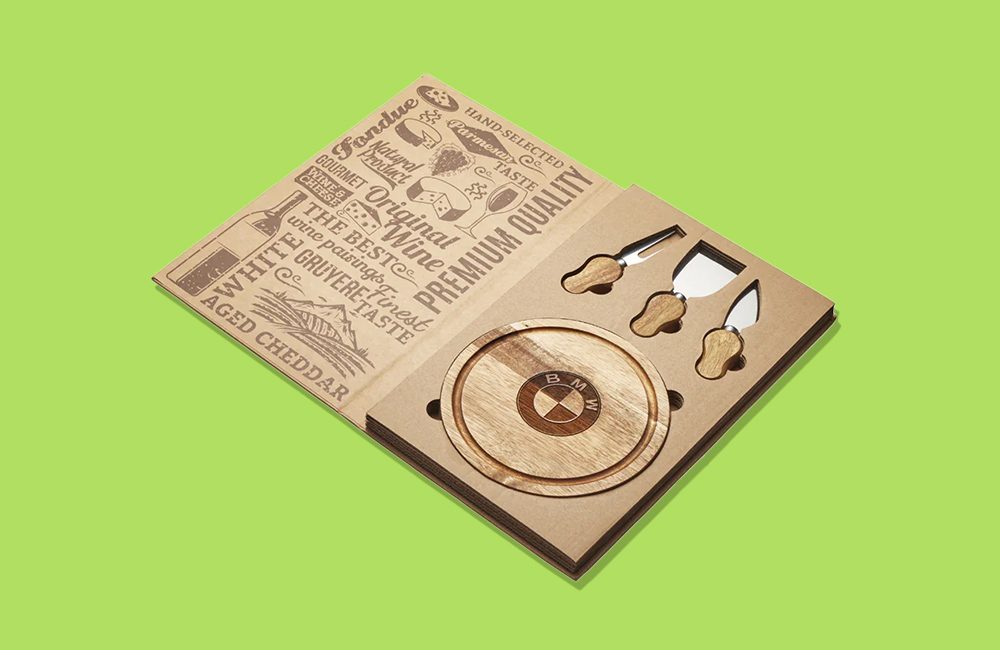 5. Flask Set (5 piece set)
This 5 piece Flask set is perfect for high-end brands — with elegantly packaging, making it a perfect gesture to make your employees feel like true gentlemen and gentle-ladies. This gift is a nod to sophistication and camaraderie, embodying your gratitude in a tasteful and memorable way.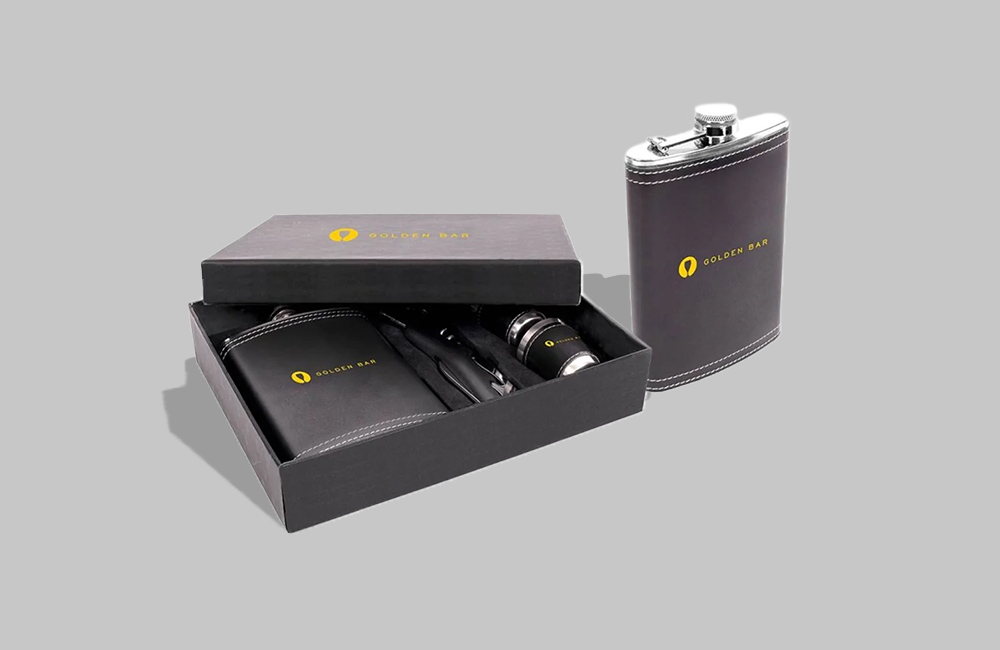 6. Cooler Bag for your six pack
Our branded cooler bags are designed to keep your six-pack refreshingly cool! These cooler bags are more than just a convenient way to carry your favorite beverages; they're a accessory statement and functional all-in-one. Whether you're heading to a picnic or a day at the beach, our cooler bags ensure your beverages stay icy and ready to enjoy. With your company's logo proudly displayed, it's a practical and cool way to showcase your brand. Here are some of our favourite cooler bags;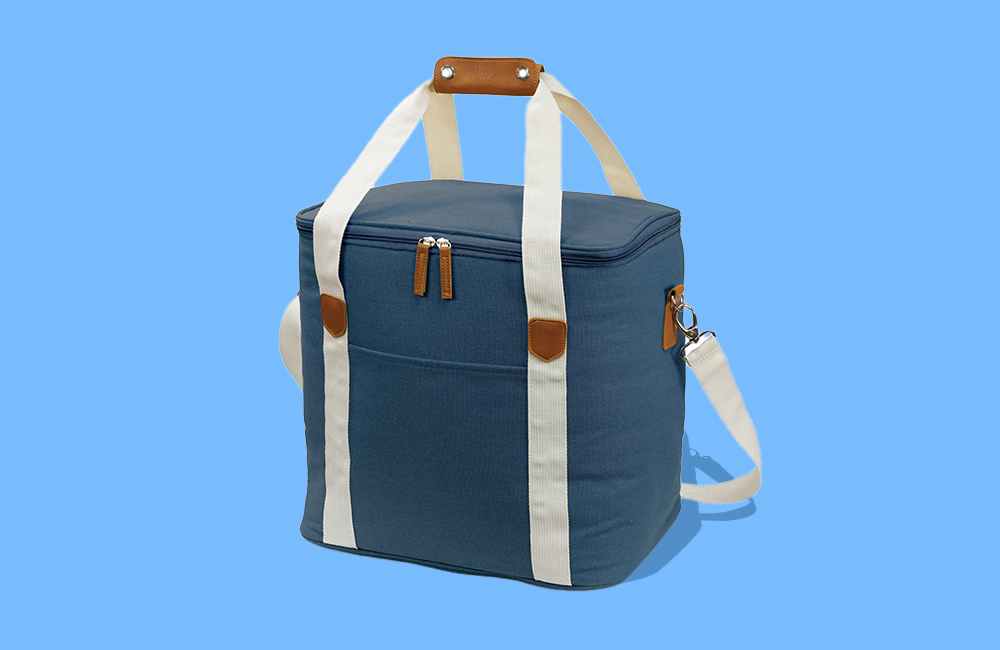 7. Back to Work essentials (7 piece set)
Our "Back to Work Essentials" set is designed to help your employees transition seamlessly into the work environment. This 7-piece collection includes must-have items like a stylish desk mat, a premium pen for jotting down ideas, a reliable charging power bank to stay connected, Bluetooth headphones for focused work, compact Bluetooth speakers for conference calls, a sleek laptop sleeve for protection, and a handy A5 notebook to keep thoughts organized. Elevate your team's productivity and make their return to work a breeze with this comprehensive set of essentials. Your "Back-to-Work Essentials" pack might look something like this;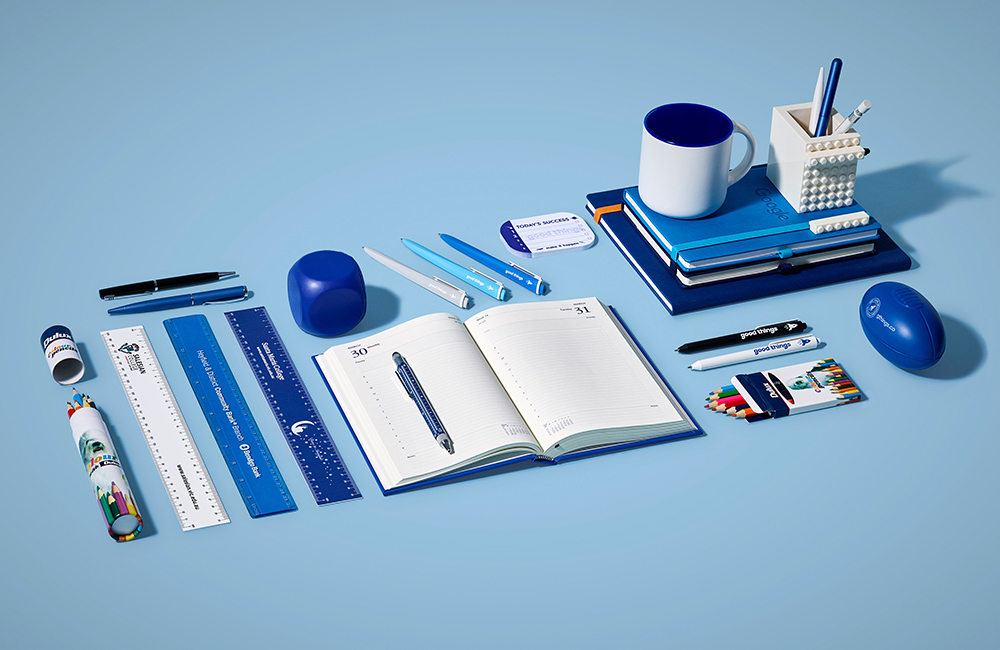 8. Infinite Muse — Bluetooth Speakers
Elevate your office meetings to a new level with our Bluetooth Speakers — each designed to deliver crystal-clear sound quality. Whether you're hosting a presentation, in a virtual brainstorming session, video conference call, or just want some background tunes; these speakers ensure that everyone in the room can hear and participate effortlessly. Our go-to Bluetooth speakers include;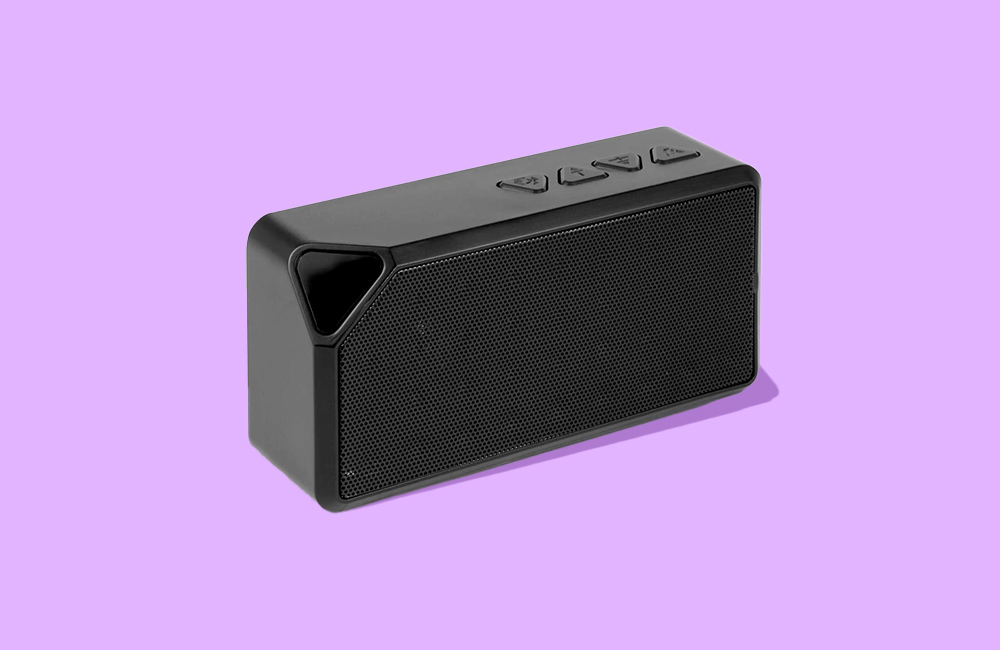 9. Cricket Set (9 piece set)
A 9-piece cricket set is an excellent employee gift, especially for those who love a family-round of Test Cricket on Boxing Day. It encourages your team to enjoy the outdoors during their Christmas break.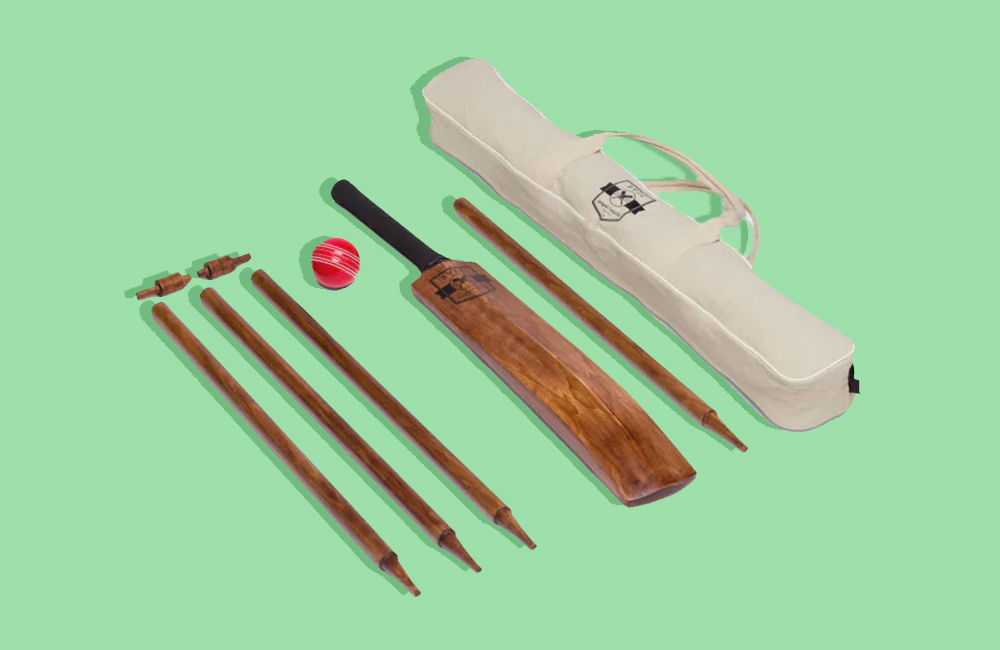 10. Hang 10 — 'I'm going to the beach' Set
The ultimate gift set for those employees who watnt o switch on 'Out of Office' with a reply email saying 'Hang 10 —I'm just at the beach, will get back to you soon'. Packed with Summer essentials, this set has everything needed for a day of fun by the sea. So, let your employees know it's time to soak up the sun and surf with this delightful and practical beach set!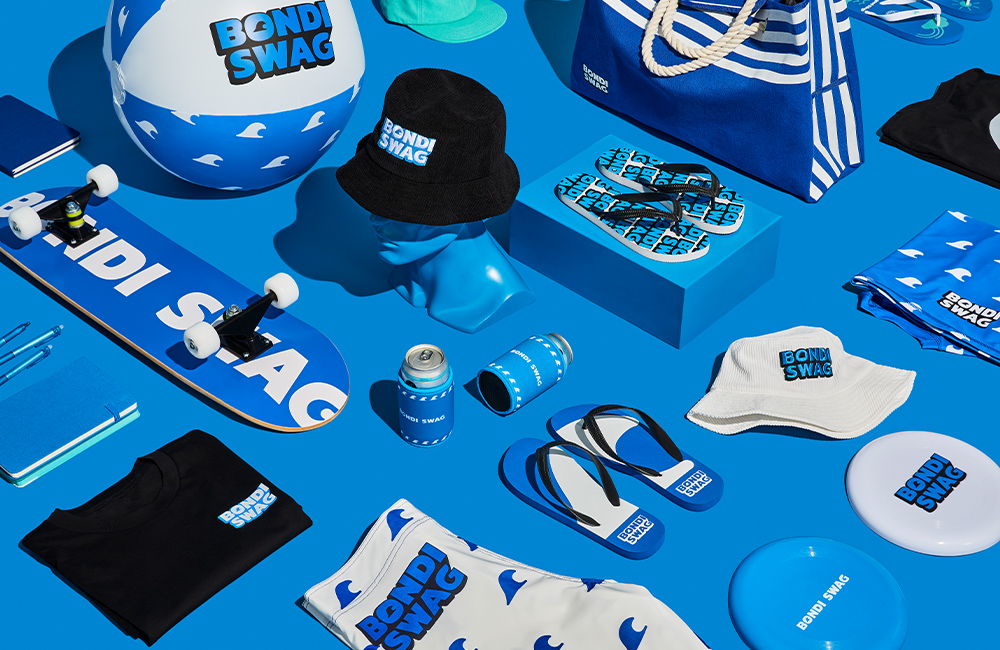 11. Soccer Balls for the whole soccer team
This is for the soccer team fans — get your goalie reaching for your own branded soccer ball. You could even put together a work soccer tournament for the Summer! This branded End-of-Year gift encourages teamwork, coordination, and healthy competition (both on and off the field). The best two soccer balls we recommend, one perfect for the field and the other is perfect for the beach;
12. Skittle Throw (12 logs to knock down)
Skittle Throw is a thrilling game where you aim to knock over 12 logs to score points. The catch? You must reach exactly 50 points to win; going over resets your score to 25 points, adding an exciting element of risk and strategy. This rule keeps players engaged, making each round a suspenseful and challenging endeavor.

To sum it all up…
As the End-of-Year season approaches and the familiar tunes of Christmas boom from the office stereo, it's time to reimagine the classic "12 Days of Christmas" with a merch twist. At Good Things, we're here to inspire your End-of-Year employee gifting with a creative array of products that cater to diverse tastes and interests.
'Tis the season to celebrate and show appreciation for your hardworking employees. Our carefully curated gift ideas, from picnic blankets to soccer balls, aim to make this holiday season special for your team. Whether you're planning to enjoy the outdoors, enhance office productivity, or simply unwind, these gift ideas are sure to make your employees feel valued and cherished.
So, this year, let your employees know that they are the true stars of the season, and spread the joy of giving with branded SWAG (Stuff We All Get) — get in touch with our team if you need a helping hand with coming up with gift ideas!