What is a Maven? A maven is someone who is knowledgeable or experienced. A maven is a person who understands. A maven is (primarily) a woman who is skilled in any field. This Yiddish-originated word has come to mean even more with the launch of the Mavens.
In early September, we had the pleasure of partnering with the Mavens for their very first print launch event. As their primary merchandise sponsor, we collaborated with their team on creating some fun but impactful merch to add to the event's VIP bags. Leah Morris, the Founder and Editor of the Mavens, approached Good Things weeks before the big event. She told us her story about how she started Mavens, and what had been accomplished to publish Volume #1 of the Mavens magazine.
We couldn't help but say yes to the sponsorship offer! We wanted to help Leah and the Mavens with the launch event — making memorable merchandise.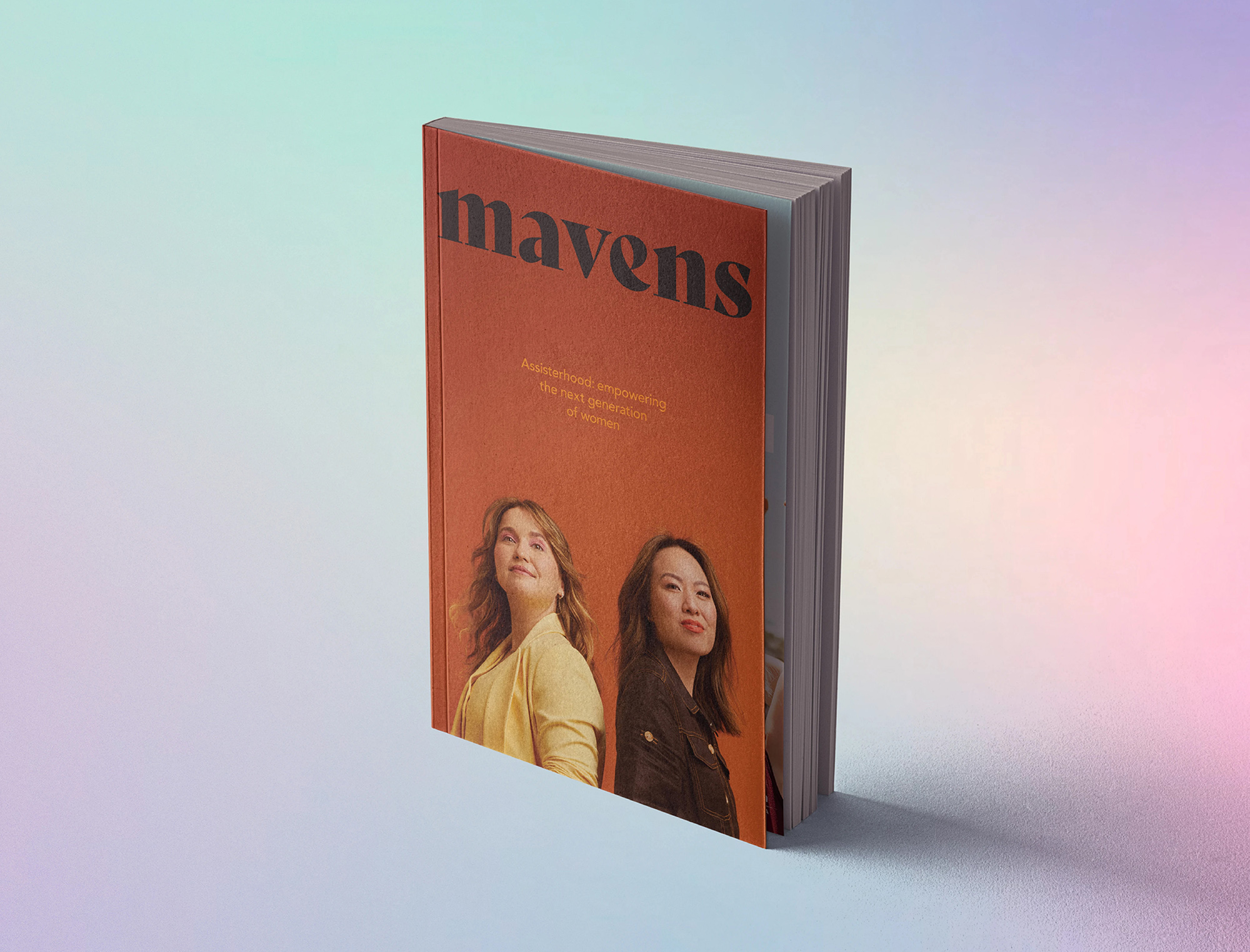 What is the Mavens?
The Mavens is an independent organisation making noise about gender equality in the Australian advertising industry. Mavens was founded by Leah in late 2019. Being a legendary woman herself, Leah began writing online articles and speaking to women in leadership positions in the advertising industry. This start-up organisation found its success on LinkedIn; with women across the industry sharing stories from their careers, how they have been treated in the industry by men and inspirational stories of their biggest mentors. 
After two years of lockdowns and dedicating her spare time to copywriting content for the Mavens, Leah approached women in her network and built the Mavens team. From there, they worked towards their united goal of creating the first publication of the Mavens Magazine.
How did Good Things help the Mavens launch event?
After meeting Leah, and chatting about Mavens and the very exciting launch event, we discussed sponsorship opportunities. It was official! Good Things would be the Mavens primary merchandise sponsor. This sponsorship meant that we would provide a large portion of the merchandise for the event. Anything additional that Leah and her team liked the look of, we would add on top of the package. 
Our Co-Founder, Jeremy, and our Digital Content Creator & Marketing Coordinator, Miriam, represented Good Things at the event and connected with some new people from the advertising industry. As we were one of the major sponsors for the event, our Good Things logo was placed on the photo banner for the event. (Shown in the image below.)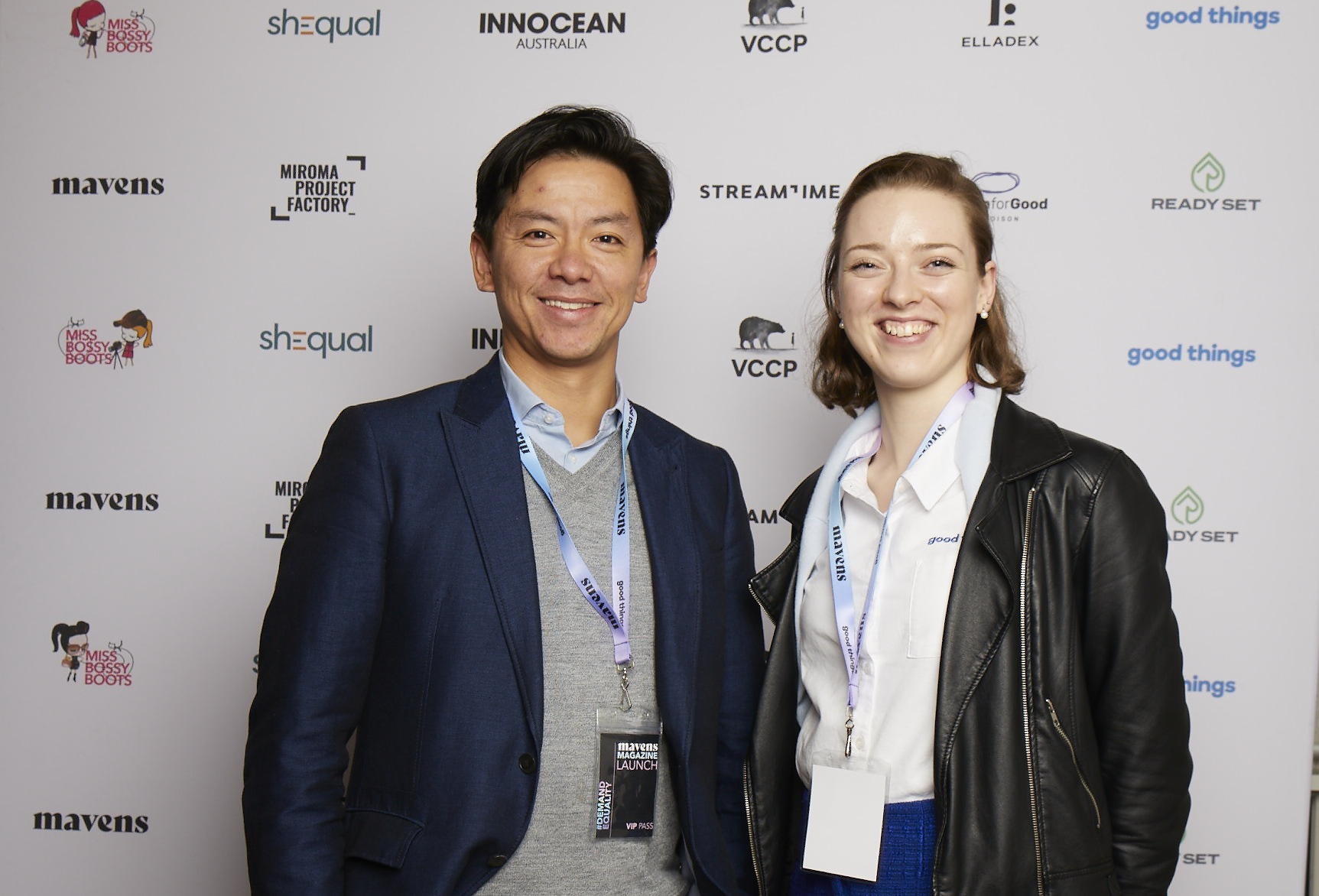 So what are the 'go-to' promotional products for events?
The Tote Bag
A great 'go-to' product that we always recommend, is a good tote bag! It's practically essential. It's perfect because it can hold all your other event merch goodies, but it also doubles as personal storage for your event goer. Plus, the other great thing about a tote bag is that you can use it after the event — for your weekly grocery shopping or as a day bag. All while that person is using your branded tote bag, your brand is being advertised wherever they go. 
For the Mavens event, they added their iconic hashtag #demandequality. This is an interesting advertising tactic, as people would have to search the hashtag rather than their website straight away. This means they would see a wide range of content surrounding Mavens, not just what Mavens post.
VIP Lanyard
Want your event goers to feel that extra special, then we recommend getting branded lanyards. Not only does it easily show your event goers tickets for access, but it shows off your brand logo. Have fun with your lanyard, it could have a colour gradient much like what we did with the Mavens! Their iconic pastel gradient is so beautiful, that we recommend to Leah and her team that the lanyard be made with this gradient. It turned out beautiful and was eye-catching on the event night.
Branded Pen
A staple piece of merch, but one that is always useful! Like we always say here at Good Things, don't underestimate the power of a pen. Branded pens are something every household has, whether we know it or not. 
Confectionary item
It's good practice to provide some sort of sweet snack for your event goers to enjoy, especially if it's going to be a long event! Can you imagine, sitting in a seminar and thinking 'hm, I'm a bit snacky…' then whipping out a pre-packed and branded chocolate bar — how good! 
For the Mavens, they opted for something a little bit longer lasting, like a pull-can of mints. Perfect for keeping at your desk (which for the Mavens audience of people in the advertising industry, is ideal for their office-based lifestyle). 
Something different or unique to your brand
Lastly, we always recommend to people putting together event packs that there should be one item that really speaks from 'your brand'. For example, a tech seminar event might have branded Bluetooth headphones in their event VIP bags or a beauty event might have a branded skin-care or cosmetic-specific product in their event pack. 
For Mavens, they chose to go with a holographic sticker. This is because there is quite a culture in the advertising and design industries around decorating your laptop and notebooks with stickers. Leah told us a great story about how she can barely see the top of her laptop anymore because it's covered in so many stickers. So creating a branded sticker with #demandequality was the perfect solution and final promotional product to be added to the Mavens merch collection.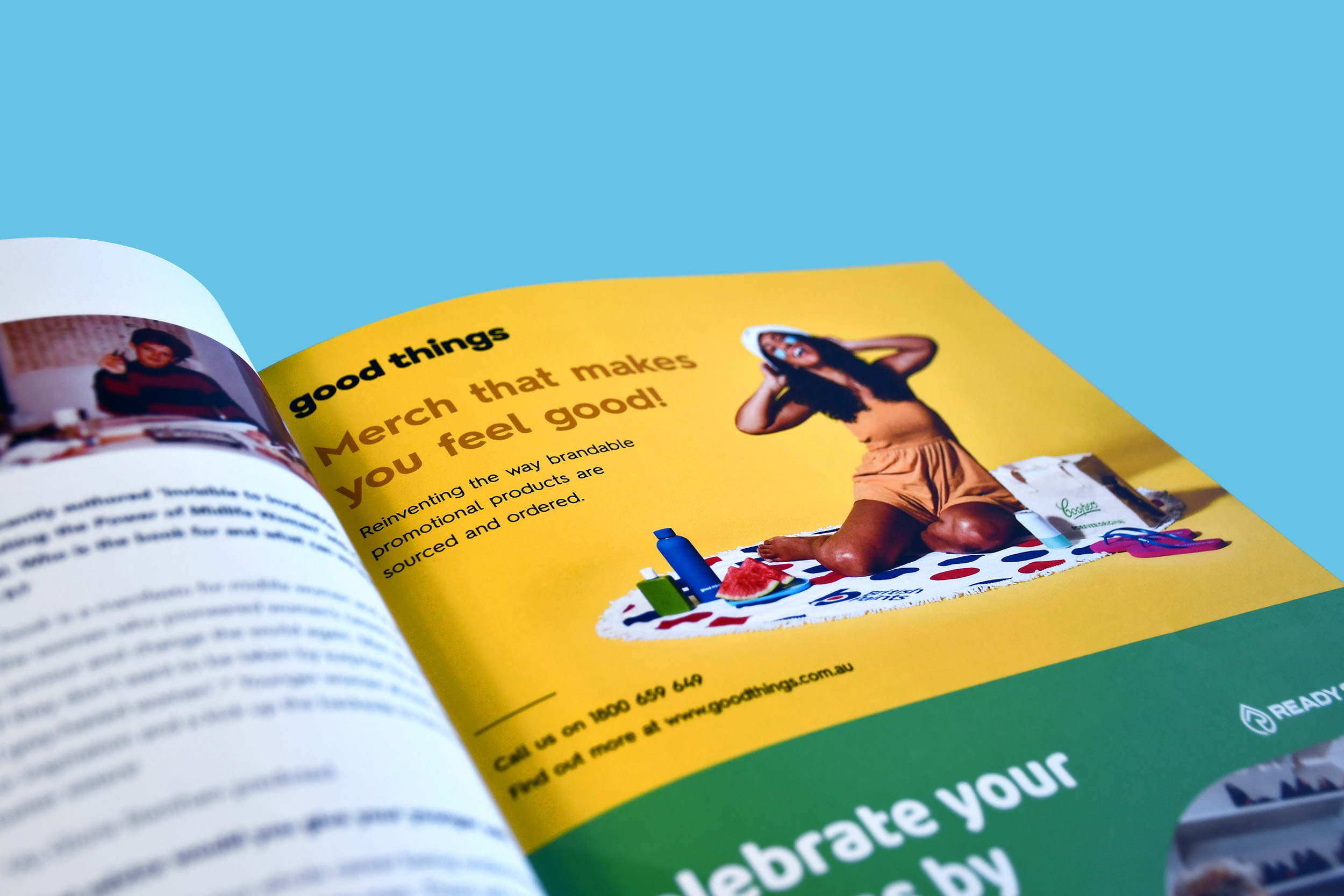 As the event comes to a close…
It's always good to have a few extra promotional products in your event packs for your event goers to enjoy when they look through the bag properly when they get home. Sometimes this can be providing other items from other sponsors, to add variety to the pack. Alternatively, you can make everything in your pack branded to your brand! We'll never say no to that.
We want to thank the Mavens, in particular Leah, for this amazing opportunity and collaboration. Our team feel it's so important to be a part of this movement within the advertising industry. Especially because merchandise and advertising are intertwined. We had a great time meeting people from the industry at the launch event and look forward to growing those new relationships. As for Volume #1 of the Mavens, you can find an extra little something from Good Things in there, with our first print ad! Overall though, it's a great read with many inspiring and eye-opening stories. Looking forward to Volume #2.